25 Tribal Braids Easy to Plait For You in 2022
In Africa, tribal braids have their origins and feature several different methods and braid types. Braided hairstyles have historically been a means of expressing rank, age, relationships, and more. Tribal braids today are all about recognizing heritage when showcasing your character and style.
1. Fulani Tribal Braids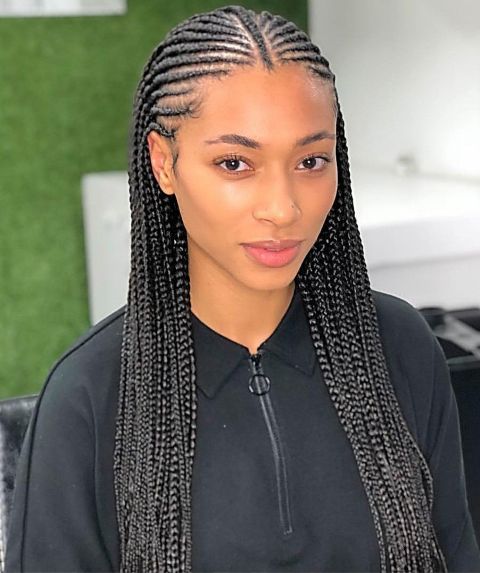 Amongst the most common types of tribal braiding, Fulani braids come from West Africa's Fula people. A central braid or twist at the crown of the head is the iconic part of the theme, which is usually adorned with rings and beads. It is preceded by thin to medium-sized side braids that can be left loose or put in an up-do. Versatile and dynamic, it's not shocking that Fulani braids are so common today.
2. Middle Part Tribal Braids
Tribal braids in the middle part suit round and oval face forms, like other middle-part hairstyles. That's because the parting draws the eye to the middle of your face, while the long braids act similarly to long bangs or layers, slimming your face and making it look longer. The middle-part tribal braids, with an edgy vibe, look laidback and mysterious.
3. Side-Split Tribal Braids
Side-split hairstyles are ideal for square and diamond face forms. That is because while showing off your square jaw, the side parting draws attention to your eyes and cheekbones. A side parting produces a gentle and feminine appearance when paired with tribal braids. It blends well with thicker designs, such as braids of goddesses.
4. Jumbo Tribal Braids
Try jumbo tribal braids for a hairstyle that still stands out. Jumbo tribal braids are a type of box braids that are much thicker than other styles and typically require additional hair extensions to be used to achieve their oversized signature effect. The way your hair is parted when putting it in is as critical as the size of the braids. This way, numerous patterns can be made, while rings, hair cuffs, and beads are added to give a unique tribal look to the jumbo braids.
5. Two Layer Tribal Braids
Your stylist first divides the hair into horizontal parts to make two-layer braids, then cornrows each section and braids the hair in various patterns in each section. As each row is braided, extensions will feed into the stylist. You can achieve a much longer and more voluminous look as well as a special contrasting finish since the upper and lower sections are braided separately.
6. Ghana Tribal Braids
Ghana Braids are a popular hairstyle from the country of Ghana, as the name implies. In general, the word 'Ghana braids' refers to several different braiding patterns that all have a distinctive tapered effect. Your stylist will start by creating thin micro braids to create the look of the Ghana braids, which then taper out to more complete, thicker plaits and twists.
7. Long Tribal Braids
For women with naturally long hair, long tribal braids are fine. However with knotted or feed-in extensions, they can also be developed. You could add shells to the ends of the braids as a nod to traditional tribal hairstyles. In many African cultures, cowry shells have been treasured and are associated with womanhood, wealth, and security.
8. Short Tribal Braids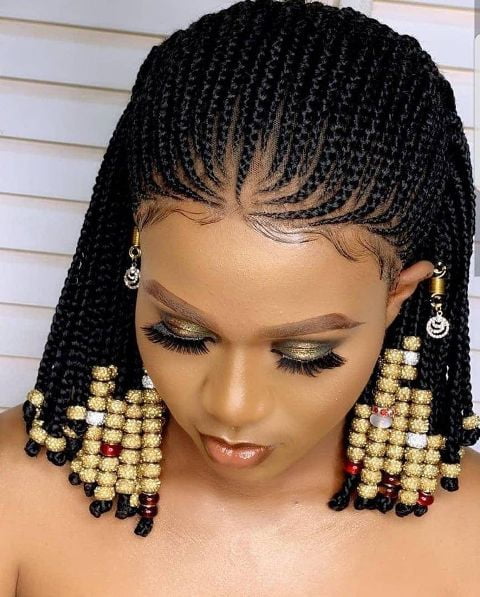 It is possible to do tribal braids on any length of hair, from short to long. Try out a chin or mid-length tribal look if you have shorter hair and would like to go without extensions. The creation of unique and organic-looking braids is the secret to the tribal look, so don't worry about making them all the same length, which can be difficult on shorter hair. Try out a braid-style core or side-parted Senegalese twists and add rings and beads for a subtle tribal look.
9. Tribal Braids with Beads
Beaded braid hairstyles are part of many cultures in Africa, and have historically been used to recognize social status. To show your style or as a tribute to tribal heritage, beads can be added to braids today. A special and individual twist is added by glass, decorative, wooden, or metal beads.
10. Tribal Braids Ponytail
Dress them up in a ponytail in order to give your tribal braids a modern and chic twist for a special occasion. Gather your braided hair up to the top of your head in order to create a ponytail. As this will create strain on your scalp which can lead to breakage, avoid pulling your braids too tight. Then take two or three strands of braid and wrap them around the base of the ponytail to secure the other braids in place, looping them around. Voila, you have a beautiful ponytail without the need for elastic.
11. Tribal Braids Bun
The braided bun is a traditional hairstyle, and a tribal twist makes it look even better. For a special event, such as a wedding or engagement party, it's the ideal trendy and sophisticated look. Ask for braids of various sizes, patterns, and thicknesses for a traditional, gilded touch, then add gold wire.
12. Feed-in Braids
To add extensions to your natural hair, feed-in braids use a knotless technique, making longer, thicker, and fuller braids. Feed-ins place less stress and tension on your scalp, making them an even more protective style for your natural hair because no knots are needed. Feed-in extensions, whether you have short or fine hair, can be used to make elegant, thick tribal braids.
13. Tribal Braids with Color
By adding some color, it gives your tribal braids an Afropunk edge. Ombre pink and purple will make you stand out from the audience and portray your distinctive character. Braiding in dyed extensions is the best way to achieve a vibrant tribal braid look. Your natural hair will stay intact and unbleached in that way.
14. Goddess Tribal Braids
Goddess braids, thick, elegant, and defined, have been worn by African women for centuries and are just as common today. The underhand braiding technique is used to create goddess braids, much like cornrows. They can be left loose or styled into a ponytail or an updo. For a typical tribal touch, incorporate elements like beads, rings, or wire.
15. Tribal Box Braids
In the '90s, box braids became popular, made famous by Janet Jackson, but they are thought to have originated thousands of years ago with the tribes of Namibia and the Nile Valley. Box braids are named after the signature square hair parts from which each braid is formed.
16. Bohemian Tribal Braids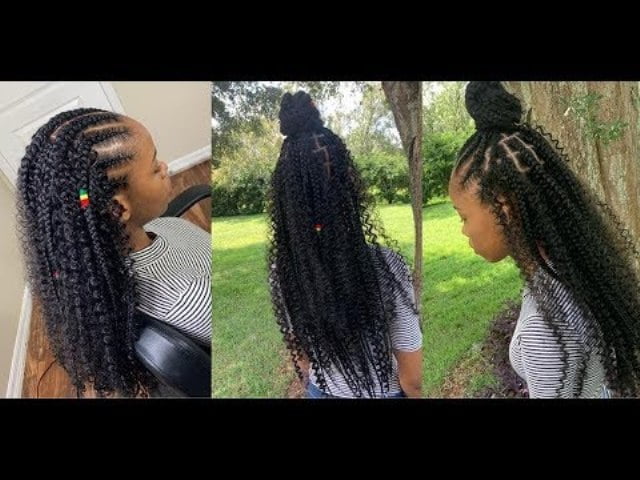 In love with bohemian tribal braids, free-spirited women will break. To produce a special, original, and innovative look, the hairstyle combines braided strands with loose hair. Unlike other types of braiding, bohemian braids don't involve plaiting or twisting all of your hair. A wild and feminine style that is as individual as you is the result.
17. Cute Tribal Braids
Tribal braids are flexible, which means that various designs can be tailored to suit them. Try cute tribal braids for a sweet and youthful look. The style blends a traditional Fulani-inspired pattern with mid-length, thin braids. Add glass beads to the ends of your braids to add to the cute effect, and tuck your strands behind your ears.
18. Lemonade Tribal Braids
Lemonade braids, rather than front to back, are close-braided cornrows that go from left to right. They were named on the cover of her album Lemonade after the style worn by Beyoncé. Have your stylist braid the cornrows even farther apart for a tribal variant of lemonade braids, so that more of your scalp is noticeable, and add beads or rings.
19. Tribal Braids with Curly Ends
Leave the ends of your tribal braids loose and curly, for a lovely and free-spirited look. Try matching curly ends with long thin plaits for the finest results. With tighter braiding types like box braids, unbraided ends often make a beautiful contrast. Plus, the style takes less time than a professionally braided look to put together.
20. Triangle Part Tribal Braids
Box braids date back thousands of years and are believed to come from Southern Africa. From the form of the hair pieces, triangle box braids get their name. Each one forms a triangle instead of the classic square or box. It's a new take on the traditional box braid style and if you want a fresh look in a classic style, it's a fun way to mix it up.
21. Tribal Braids with Rings and Cords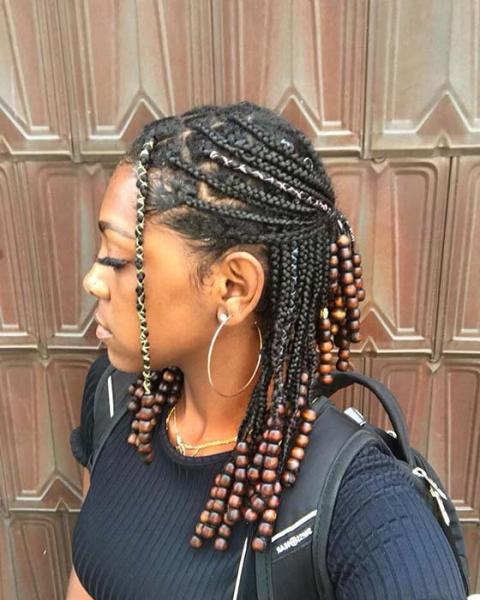 In many African tribal cultures, rings and cords are typical hair adornments. When paired with braids, they produce a glamorous and distinctive look, as the metallic finish of the rings or the cord's light color contrasts beautifully with dark hair. Plus, at any moment, you can swap the ornaments out for a fresh new look, as they don't have to be braided into your locks.
22. Box Braids with Top Knot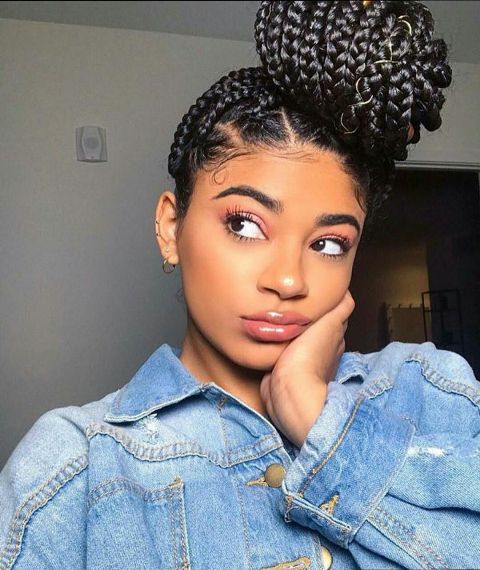 Box braids on their own are a beautiful traditional style, but when paired with a top knot, they look even more spectacular. A twisted top knot, braided, still stands out from the crowd and will give you a look that is regal and confident. Plus, not just adding height but also lengthening the face is the combination of a top knot with box braids, making this a very flattering combination.
23. Tribal Braids with Half Top Bun
The tribal braids with a half top bun hairstyle, like the top knot with box braids, are a flattering look, particularly for those with rounder faces. However, with a more organic and laidback vibe, it is a lighter style, as the braids don't have the same structured look as classic box braids. To add to the beautiful and feminine feel, leave some loose, curly tendrils.
24. Senegalese Tribal Braids
Senegalese tribal braids have a signature silky, rope-like look, also known as Senegalese twists, that adds a glamorous touch to any look. The style originated in the West African nation of Senegal, technically a twist, rather than a braid, and first became popular globally in the early 2000s. The twists use modern synthetic hair to produce a shiny, sleek appearance, although they are based on traditional techniques.
25. Tribal Feed in Braids with Cords
Feed-in braids are knotless, ensuring that for a smooth finish, your stylist will plait hair extensions into your natural hair. The outcome is longer, thicker, naturally moving braids, suitable for making various braided tribal types, such as Fulani braids. Longer hair parts are also perfect for incorporating decorations like strings, which for a glamorous look can be braided in or wrapped around your braids.
How to Plait Tribal Braids
Feeling encouraged by these magnificent tribal braid hairstyles? Check out IrenesBraids for this video. Irene shows in the clip how a combined box braid-Fulani style can be made. The traditional Fulani central braid and side braids are featured in the front section of the hair, while the back section is filled with classic box braids for a trendy tribal-meets-modern final look.
Want To Know What Tribal braids Are?
'Tribal braids' is a term used to describe braiding patterns that have their roots in African cultures. They often incorporate several different types of braids, as well as decorative accessories like rings, beads, and shells. Some of the most famous tribal braid styles are Fulani braids, Ghana braids, and box braids.