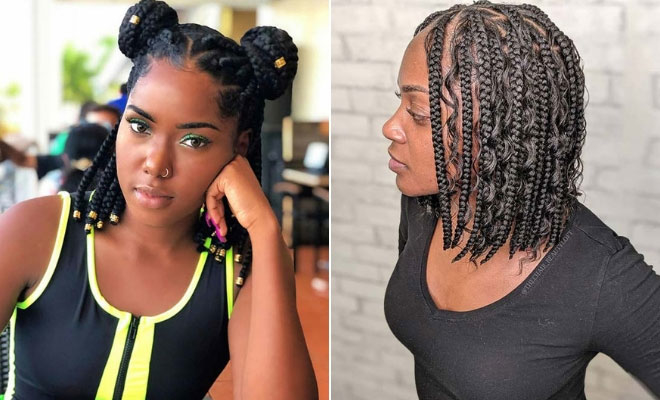 One of the best things about braids is that various lengths can be attempted. You may have really long braids one day and you can have shorter styles like bobs the next. A braided bob is a classic hair idea, trendy and simple to wear that will suit everyone. Now is the perfect time to try this easy to handle, shorter style, with the new spring season upon us and summer just round the corner. So, to give you some hair inspiration today, we have 21 beautiful styles of bob box braids. From plain and elegant to trendy, bold and vibrant looks, we've got a look for everyone. To find the next beautiful braided theme, read on.
1. CLASSY BOB BOX BRAIDS
We have this plain, chic and classic braided bob first of all. So, with a typical bob style, the hair is beautifully braided and the hair coils underneath. It's very adorable and easy to wear. You may replicate this or attempt the length of a shorter braid. Slightly closer to the chin, maybe. Hair like this is going to look great on everyone and it's never going to go out of style.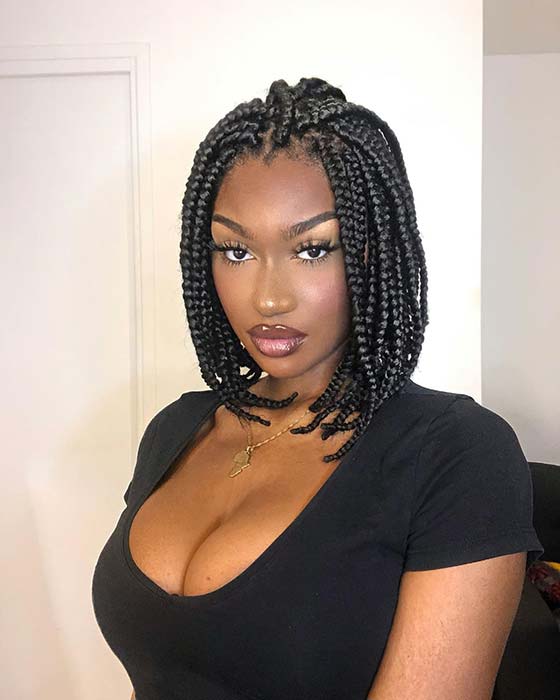 2. BOB BRAIDS WITH CURLS
One of our favourites is this next hair idea, because it is so beautiful and fashionable! We've got knotless bohemian braids here. They'll feature braids and curls when braids are bohemian. This is a superb example. The hair has lots of loose curls in a long length of a bob. This look of braids and waves is ideal for the summer and for any occasion, it will glam up your look.

3. CHIC SHORT BOB
Looking for a style which is trendy and simple to wear? This may be for you, if so. The hair is braided into a short bob for this look that just goes below the chin and each braid is a lovely brown color. Although the color is warm and trendy, the true braided style is elegant and classic. This is such a beautiful concept for hair that suits someone of all ages.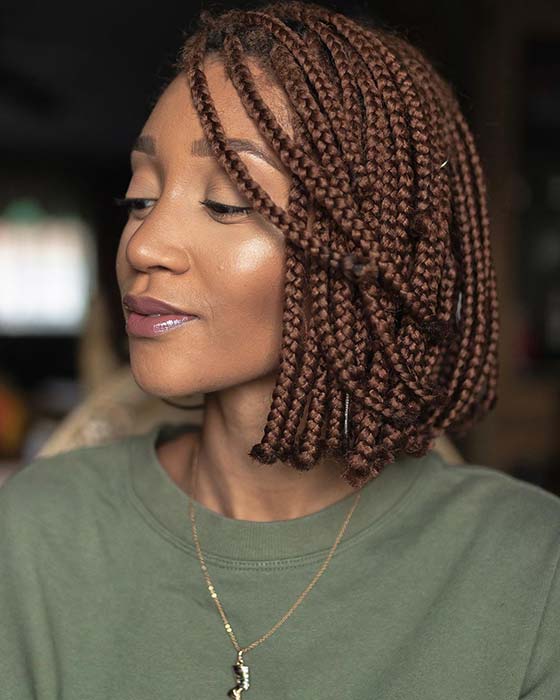 4. CHUNKY BOB BOX BRAIDS
You can also select the thickness, just as you can choose the length of the braid. We showed some of the thinner braids, and now it's time for the chunky braids. We have a long braided bob here, with chunky braids, and some locals, too. The box braids are elegant and a stylish bob is formed by the thicker braid. Recreate this or we think that, especially for spring and summer, it would look great in a different color. Blonde or burgundy maybe if you're feeling bold.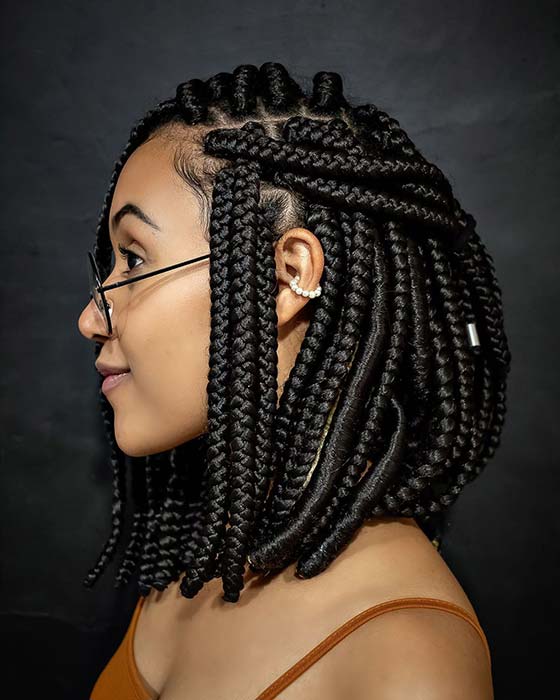 5. SHORT RED BOX BRAIDS
This next hair idea, speaking of braids in various colours, is so bold and vivid! This style features a simple braided bob and a vivid burgundy color for each braid. Gold or silver accessories, including hanging charms, cuffs and a chain, are also accessorized with most of the braids. For those who want to make a statement, it is a beautiful look that is great.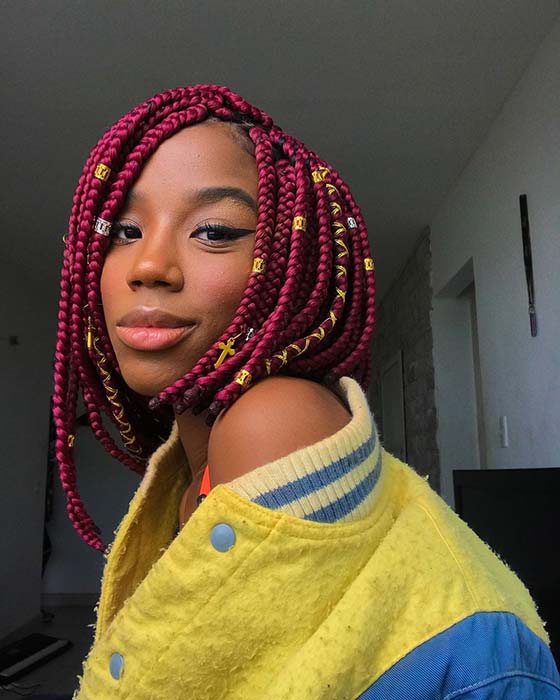 6. ELEGANT BOB WITH A SIDE PART
Next, to show you, we've got a cute and pretty bob. With a side portion, the hair is braided and the bob is a longer length. Since it is sleek, trendy and elegant, we love this version of the braided bob. Hair like this would suit all, and for those who need hair that does it all, it is great. To tell job, if you need a beautiful yet easy-to-wear style, but also need a glam look for the evening. You'll get this hairstyle covered. We really love how the features of one side of the bob feed into braids. This gives a more neat and elegant look to the braids.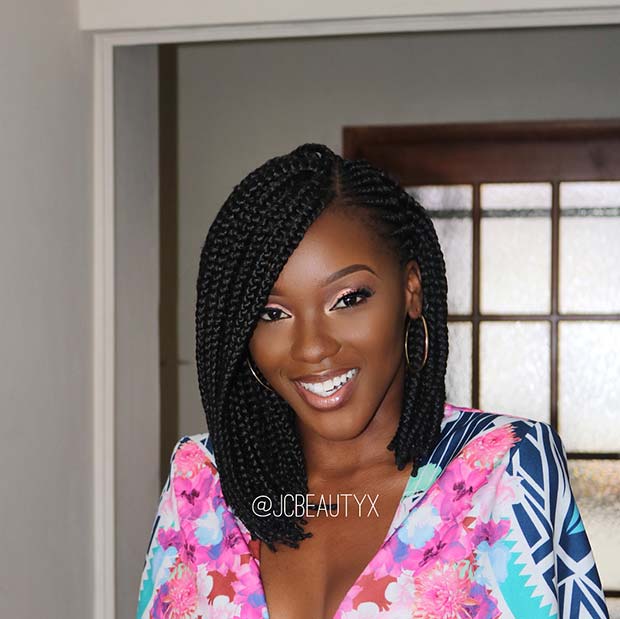 7. CARAMEL AND BLONDE BOB
Blonde is another color that you should try and here is how to wear it in style. We've got a classic braided bob here. Although some of the other braids are bright blonde, most of the braids are a dark caramel hue. With gold cuffs, the whole look is rounded off. We love this warm blonde, and we think it's going to be great for the summer. Try a comparable hairstyle, or without the bright blonde, you can have the caramel hue. Your hair would look gorgeous either way.Caramel and Blonde Box Braids Bob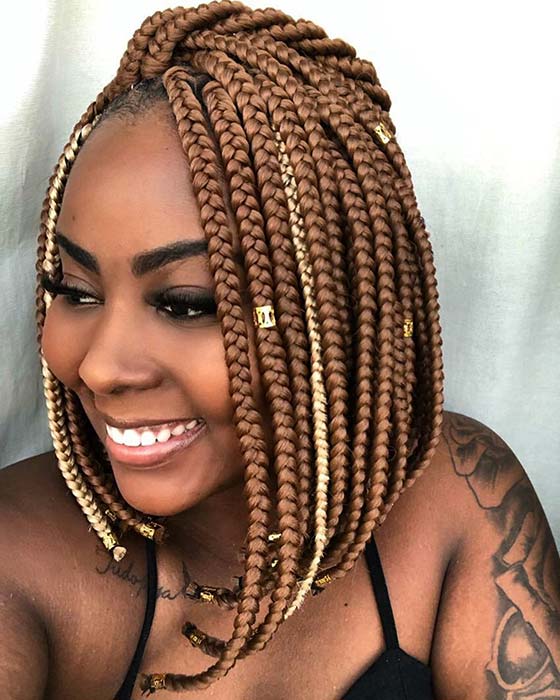 8. TRENDY HAIR IDEA
So fashionable and simple to wear is the next hairstyle. The hair is braided into a long bob for this style, curling underneath at the ends. There are chains and cuffs on some of the braids. It is so simple to wear and it looks so trendy and modern. Recreate this look or, without the accessories, you can try the bob. You can add a pop of bolder colour to make it more statement making.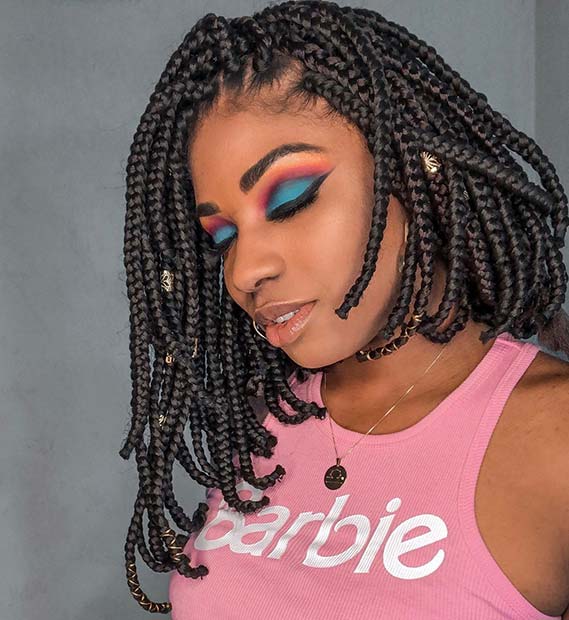 9. LONG BOB WITH GOLD ACCESSORIES
Want long hairstyles with a bob? Take a look at this, if so. Chunky box braids that go just below the chin are featured in this model. With a dark gold cord, the hair is also accessorized. It has a gold accessory at the end of each braid. The real hairstyle is really chic and glamour is applied to the accessories. For a cute bob look, you can try a similar version of this or get the length shorter.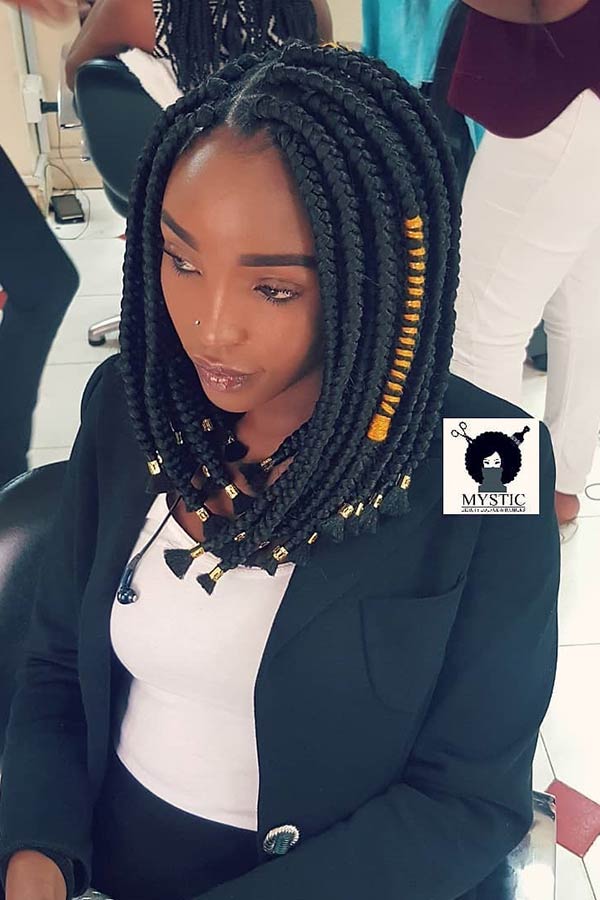 10. COLORFUL BOB WITH JUMBO BRAIDS
First, we've got a colorful and cute bob. The hair is styled into chunky braids that at the ends are thinner. Colorful cords are also accessorized with some of the braids. As they add a splash of color to the hair, we love the vivid cords. It's a fun hairstyle that makes a statement, and it would be perfect for the summer. Try the cords on the rainbow or pick other bold colors.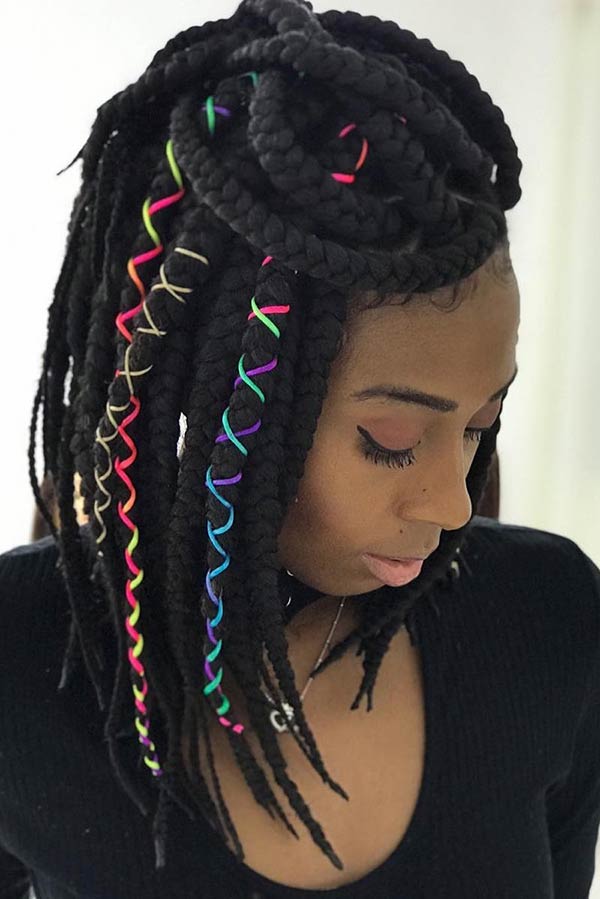 11. CHUNKY BRAIDED BOB
The next definition for hair is cute and easy to wear. We have chunky braids here that are cut into a bob with a short chin length. Each braid is decorated with cuffs made of gold. We love the length of the braids, since a stylish classic is the chin length bob. This hairstyle on any woman would look incredible and you can replicate it with or without the cuffs. A similar bob would look more subtle and chic with no cuffs.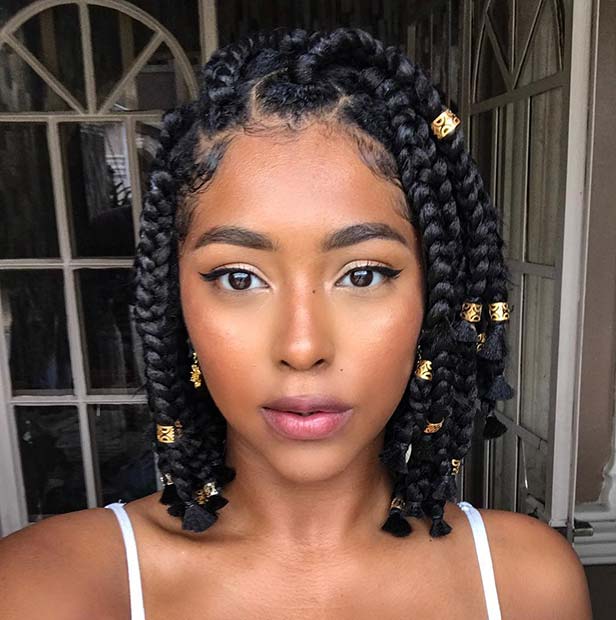 12. BLONDE BRAIDED HALF UPDO
A beautiful hair color and a fashionable way to style your bob are seen by this next braid concept. The hair is cut into a longer bob for this appearance. Half of the braids are left loose and half are wrapped up, making a half-updo that is chic. All the braids are a lovely blond color, too. We love all about this theme, and the summer is going to be fantastic.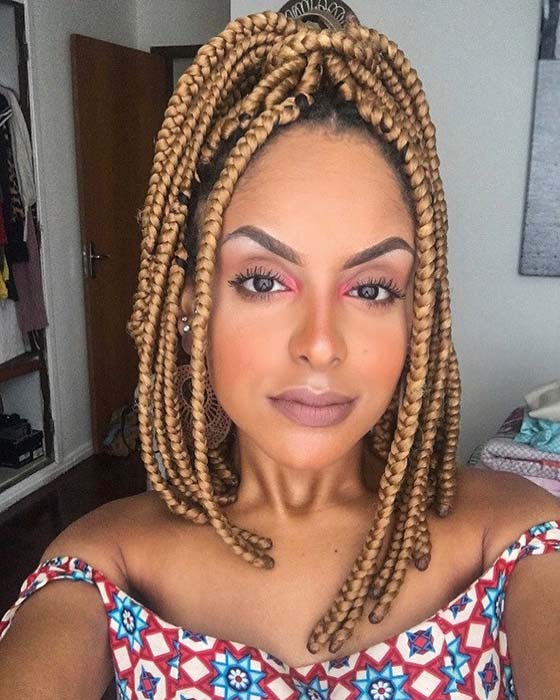 13. STYLISH LONG BOB
Love the look of a long bob? Take a look at this one, if so. The hair was styled into chunky braids in a box with a length just going past the chin. With statement making cuffs, this look is finished off. It's another trendy and stylish hairstyle that's going to look awesome to everyone. Recreate this or you can try to make your braids shorter.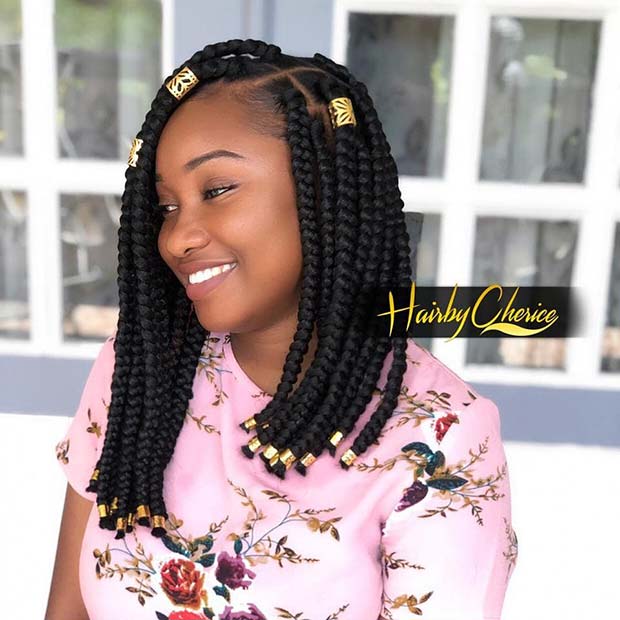 14. DOUBLE BUNS HALF UPDO
This next hair idea, we love it, is another one of our favorites! We've got a cute braided bob here. The other half is styled into two buns, while half of the braids are left free. The look of a double bun is so sweet, fun and stylish. It's a pretty half-updo, and for spring and summer it's great. Try a similar style, or try a single bun. With an ombre hue, maybe pink, purple or blue, this hairstyle will look fantastic.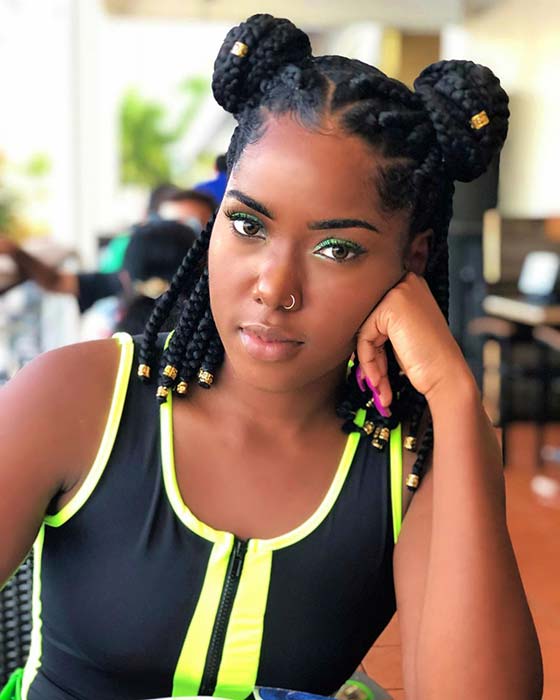 15. SHORT BOB BOX BRAIDS
First, we've got a braided short bob. The hair is styled into thin braids of a shorter length for this look. These braids are chin lengths that produce a bob style that is elegant and timeless. Hair like this will complement all women and, depending on how you wear it, it will look casual or glam. Keep it chic and plain, or you can add a few accessories.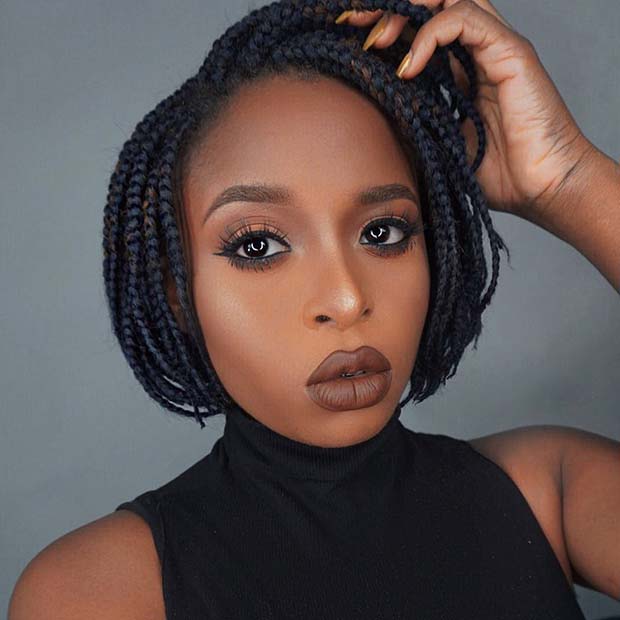 16. LONG BOB WITH A CORD
Want hairstyles with accessories? Check this out if so. With chunky braids, this style features another long bob. At the end, each braid has a gold accessory and one braid is decorated with a gold cord on the front. Although the gold accessories really spice it up, the design is simple and stunning. For a more distinctive appearance, replicate this or try a different colored cord.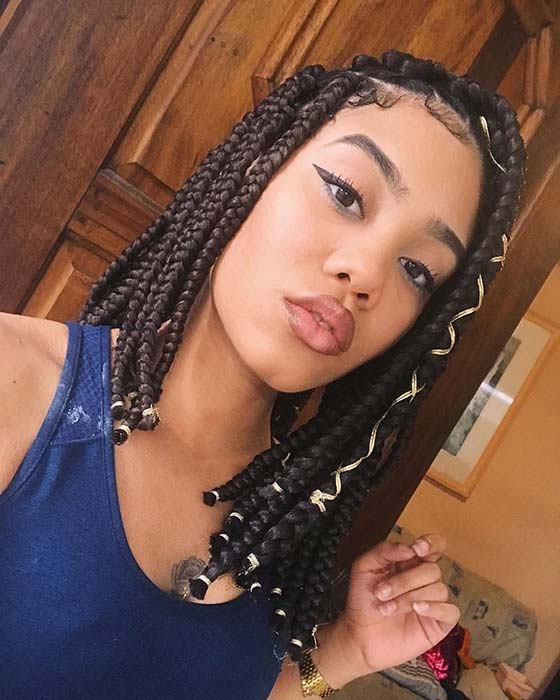 17. BOX BRAID BOB
A beautiful box braid bob features the next hair design. These braids have a longer length of braid and are embellished with gold accessories. It's a simple and beautiful hairstyle that's going to suit everyone. This is another bob, for every occasion, that will look fantastic day or night. Try a similar look or try the gold accessories without them.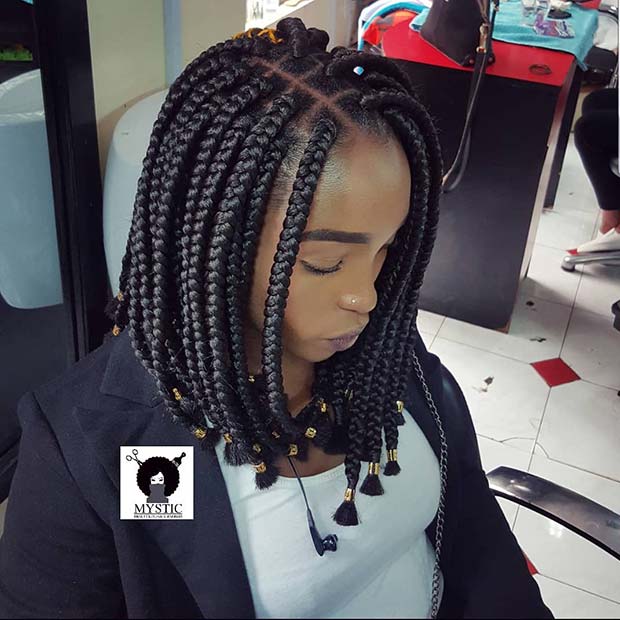 18. CUTE BRAIDED BOB IDEA
Another cute bob is this next one. The hair is braided with curled ends into a plain and chic bob. It has a side piece and a trendy hair accessory as well. This is a lovely style that will look gorgeous on everyone. Recreate this classic and trendy look or you can color it up with some jazz. The blonde version of this bob is going to look incredible.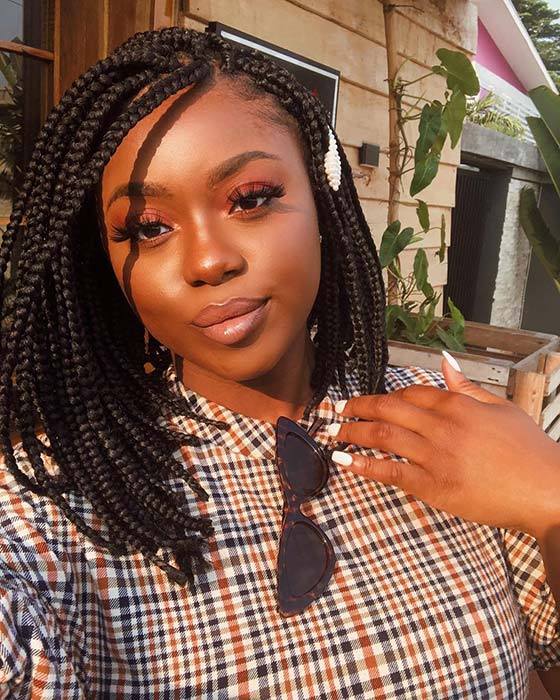 19. HALF BUN WITH A LONG BOB
If you love half updos, you've got to see this concept of hair. We got another long bob right here. Half of the braids are left free, while a relaxed bun is wrapped up with the other half. It's yet another adorable and stylish way to style your braids. Another perfect hair concept for the summer is this and you can also try the half bun with shorter braids.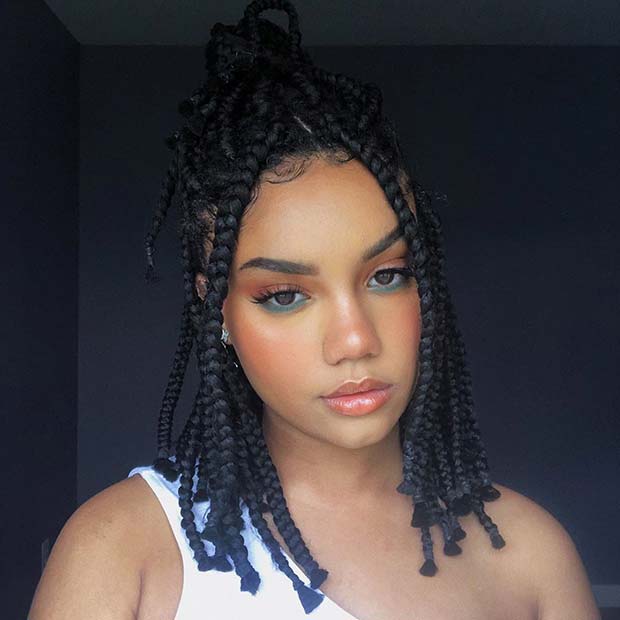 20. BURGUNDY BOB BRAIDS
Next, to show you, we've got another burgundy look. The hair under the bob is styled into a cute and curled one. Each braid is a dark shade of burgundy as well. We love to pair a sleek bob with a trendy paint. It's a beautiful and bold concept for hair that will make a statement. For fall and winter, this darker shade is fine.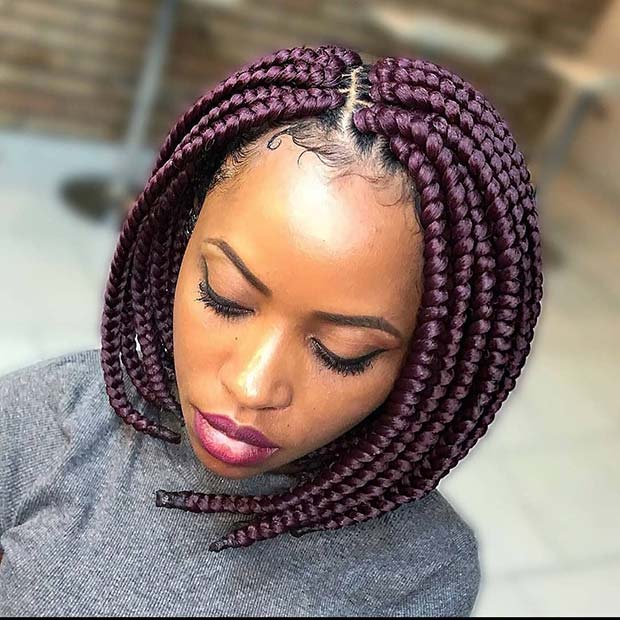 21. CHUNKY AND BLUNT BOB
We love this concept of hair! The hair is braided into a long bob with blunt ends for this look. Each braid is decorated with gold as well. The blunt cut braids look gorgeous and luxury and glamour are applied to the gold. Every day, hair like this will make you feel like a queen. Try something similar, or you can go for the length of a shorter bob.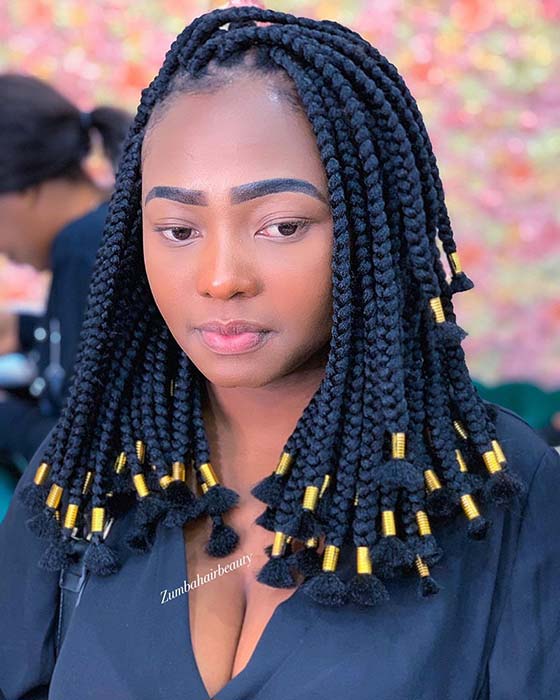 BONUS
22. STYLISH BRAIDED UPDO
Another half updo features this hair idea. The hair is lengthy in a traditional bob and styled into a comfortable updo. Some of the braids are accessorized as well. It's a pretty and fashionable idea for hair. With or without accessories, you can reinvent yourself. In the cool blonde hue, we think this hairstyle will look fantastic too.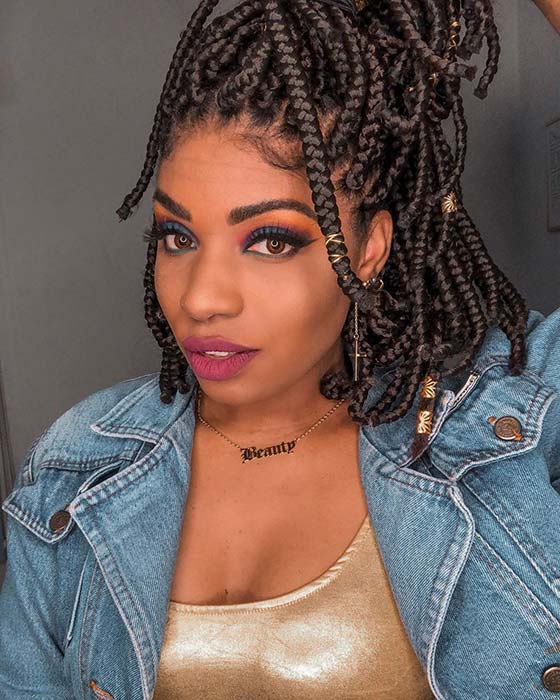 23. BLONDE AND PINK BOB
Another one of our favourites is the final braided bob! We've curled up here under braids that are either bright blonde or bright pink. We love the combination of blonde and pink shades, because it's fun and statement making! For the summer, these hair colors would be ideal and they will make you stand out in style from the crowd!