Since box braids are so ubiquitous, it's no surprise that they can be fashioned in a wide variety of ways. Alter the look of your braids by changing their width, length, and shade. Unique box braids style can be installed and styled in a variety of ways. No matter how long or short your box braids are, you can style them in a variety of ways.
It's not necessary to constantly restyle your hair or worry about frizz if you frequently remove your braids. Learn how to make your box braids look fresh and new again with the help of this article's curated list of styling options.
1. Blunt Box Braids With Cords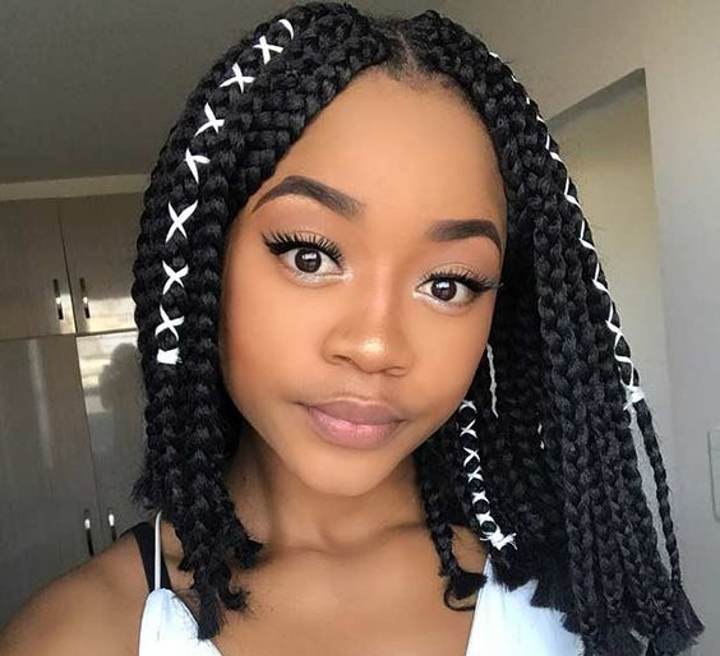 If you prefer your braids shorter and thinner, more power to you. When you've been sporting your short box braids in a simple style for a while, it's time to add some cords for flair.
You don't need the help of a stylist at a salon to achieve this look. Wrap the strings around the first two or three strands of hair in the front, and you're good to go. You can get the blunt ends by cutting short or medium-length braids.
2. Box Braids + Shaved Sides and Back
Women who favor a mohawk or undercut haircut frequently sport box braids with shaved sides. On the other hand, some of them choose to change their appearance by braiding their hair at the crown.
You should enjoy the remaining few weeks of your box braids style before deciding to cut your hair. Use styling products to reinvigorate the stray roots and flyaways.
SEE: Short Natural Haircuts for Black Females: Classics for You to Try
3. Half Up-Half Down Style
Half updos are another option for styling your box braids. And you can do it all by yourself with little effort. Simply part your braids down the middle horizontally, and pull the top half back into a bun or ponytail. And then just let the bottom half dangle.
This cut is great for hiding back-growing braids. In addition, it makes you appear younger and more carefree.
4. Box Braids in a Bun
One of the most widespread and simple methods of styling hair is bundling it up. This includes box braids. Having less body hair, especially in the warmer months, is a relief. It's also a great way to show off your beautiful face.
Everyone can pull off a bun of box braids. Wear some large hoop earrings and a delicate necklace if you like.
5. Top Knot Bun
Braids can be worn in a bun in a variety of ways. Top knot buns are one such style. You can keep your hair up and out of your face with this bun. As the name suggests, a high bun is knotted very tightly, so it can be worn for an extended period of time without requiring constant re-doing.
You can show off your strong chin and jawline with minimal or obscene amounts of adornment, just as you would with a regular bun.
6. Style Box Braids With Scarf
Scarves are an excellent way to accentuate your outfit. Box braids can be worn with a scarf in a variety of ways. The braids can be entirely wrapped in the scarf, or just the roots can be covered if there is new growth. For an even more put-together look, try weaving the scarf into the length of the braids.
7. Ponytail Unique Box Braids Style
Those who prefer not to wear buns can instead wear ponytails. This variation allows the free movement of the ends of your braids. This box braids look is perfect for those who want to keep their hair off their bodies but still show off their creative braiding techniques by adding beads or curls to the ends.
This box braids hairstyle is appropriate for formal events and the workplace.
8. Unique Box Braids style Messy Bun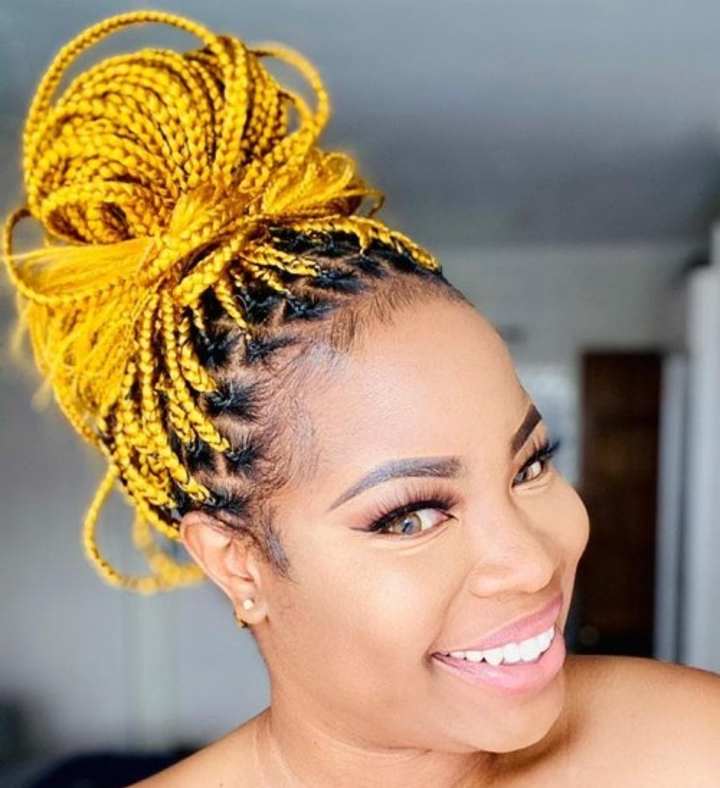 You can put your box braids up in a bun in countless ways. Wear your braids in a messy bun for a carefree and youthful appearance. Because the braids are not tightly wrapped or pulled, they relieve some of the stress on your roots.
Adding beads, cuffs, and shells to your long hair is another fun way to switch things up.
9. Box Braids High Top Bun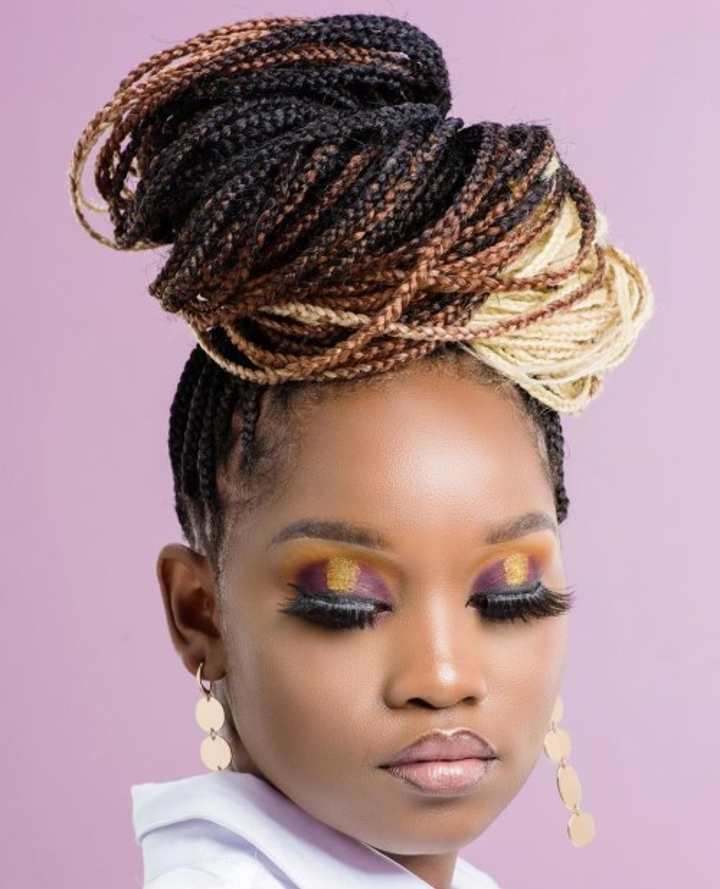 Braids can also be worn in a high-top bun. Less knotted than a top knot bun and more structured than a messy bun. Nonetheless, it's as fashionable as any other bun option.
10. Box Braids + Middle Part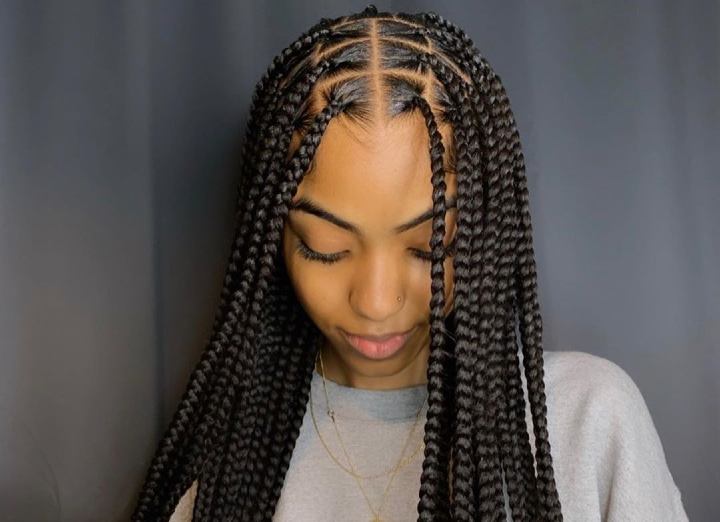 Box braids that have been carefully sectioned fall into a natural middle part. This hairdo is great for the busy woman who doesn't have time to spend in front of the mirror. In addition, you can wear the braids down to frame your face or pull them into a low ponytail in the back while still showing off that middle part.
11. Box Braids + Side Parts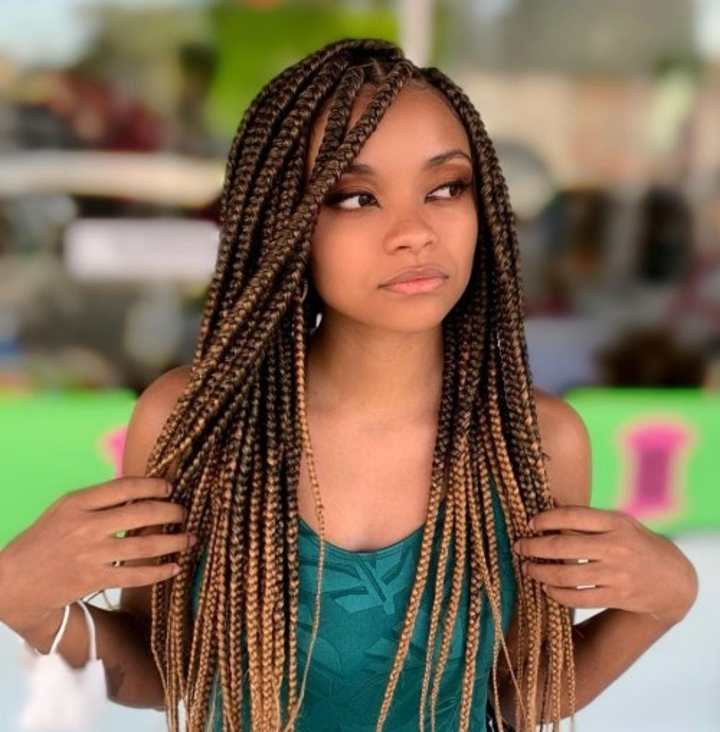 Put the part on the side of your head instead of in the middle to draw attention to your sharp features. The braids, like the middle part, can be worn loose or tucked behind the head.
12. Box Braids Butterfly Style
The butterfly box braid fuses the plaits and braids of two distinct styles. Request butterfly locs from your stylist if you're tired of your standard hairstyle. Changing will be a positive experience for you.
13. Box Braids Bantu Knot
Bantu knots are a great way to give your old box braids a new lease on life if you're not quite ready to give up on them just yet. If you want to tie the braids in the back, you might need some help.
However, small box braids may not function well in Bantu knots. Larger braids are preferable for this. It's important to use styling gel to tame your hair's edges and mousse to give your knots some oomph.
14. Space Buns Unique Box Braids style
I don't see the point in eating just one bun when you can eat two! Wearing your hair in a space bun is another option for achieving a fresh, modern, and youthful appearance. If you aren't quite ready to take out your kids' braids, this is also a great option for the first day of school. Yes, adult space buns are acceptable attire.
15. Braid on Box Braids Style
You can switch up your box braids by simply braiding them. Individually, you can plait three or four strands, and in cornrows, you can plait the entire head. Another option is to plait a few strands to one side and then pull them behind your head. The style is more manipulative, though, and might not work well with fine hair.
16. Box Braids Twist to the Side
Effortless in its understated elegance. Gather a small amount of hair from each side, twist it gently, then pull it behind your head and secure it with an elastic. In fashion terms, it will serve as a crown. To avoid having hair in the way of your beautiful features, try twisting your box braids to one side.
SEE: Want to Relieve Tight Braids? These Helpful Tricks Will Help You Out
17. Bob Unique Box Braids Style
After a few weeks of wearing thick box braids, you can try a new look by shortening them into a bob. You can reduce the stress on your scalp caused by wearing too many extensions by doing this. Small elastic bands can be used to secure the ends if they start to unravel.
18. Box Braids Bob + Accessories
Adding some new hairpieces can completely transform your old bob. If you need to change your look for a specific occasion, like a carnival, you can always add some accessories. Cords, cuffs, beads, and shells are all great options for jewelry.
19. Box Braids + Full Bangs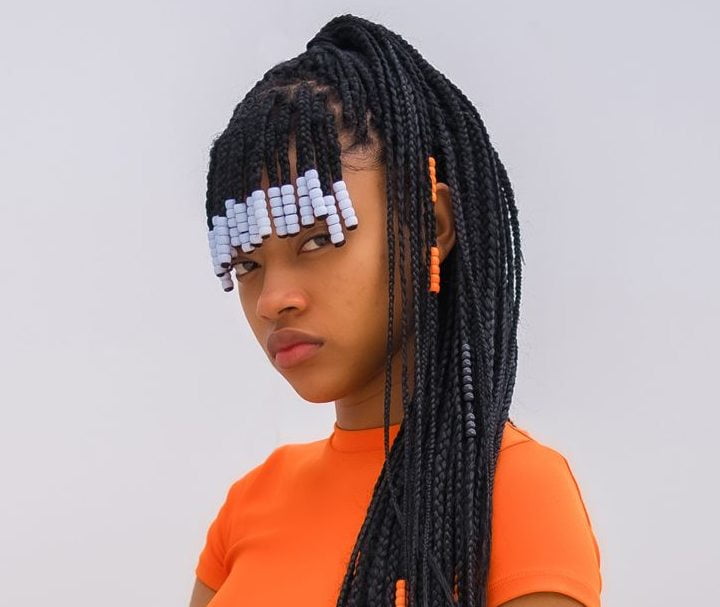 If you're tired of your usual hairstyle but still want to change things up, try a box braid with full bangs. It's a fantastic option for a fresh style. One of those things that can completely transform your appearance is a set of fringes. Try it out first before you decide to chop off your braids.
20. Short Unique Box Braids style
Perhaps you got long braids in preparation for summer, but they're starting to weigh you down now. Simply shorten the length and breathe easier. By removing a substantial portion of your hair, it reduces stress on your scalp.
21. Box Braids in Ponytail + Two Bangs
Leave two strands of hair, one on each side of your face, instead of wearing full bangs or a simple ponytail. The thing I like best about this haircut is that it instantly refreshes your appearance, making you appear both fashionable and youthful. Moreover, it works wonderfully for any kind of environment and any kind of face.
SEE: Does Braiding Damage Hair? Find Out if Braids Are Bad for Your Hair
22. Box Braids Lob
You can try a lob if a bob is too short for you. When styled with a middle part, a lob cut with a full head of box braids has the added benefit of making the face appear more refined. If it's too simple, add some bangles or shells and a cord to one strand.
23. Let It All Down Unique Box Braids style
When you don't feel like your scalp being touched, you can simply let your braids hang behind you. The colder months and the beach are ideal for this look. It could be quite a hassle during the summer and other seasons.
24. Box Braids in Back Bun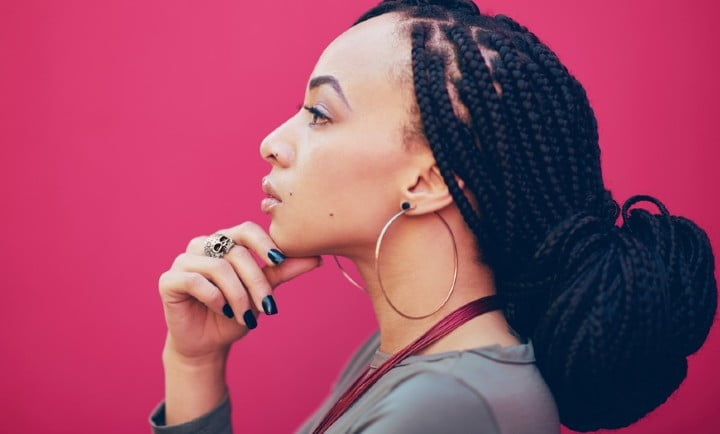 A different bun for box braids? Sure, why wouldn't you like buns? Bring the bun down if you don't feel like climbing all the way to the top. If your braids aren't very thick, you might like this box braids style more.
25. Stylish Bun + One-Sided Bangs
The one-sided bangs that merge with the bun in the back are the distinguishing feature of this box braids hairstyle. If you want a bun but don't want to completely remove your hair from your face, this is the style for you.
SEE: Are Serums Good for Your Hair? Here's Why You Need at Least One
26. Funky Unique Box Braids style
Don a scarf and look cool. Teenagers and young adults tend to favor this look. Here's a novel approach to wearing your box braids to a social gathering or outdoor activity. Put on a pair of boyfriend jeans and a cool jacket to express your inner hippie.
FAQs
How long should you keep your braids in?
You can get 6-8 weeks of wear out of a good braid. The lifespan of your braids is directly proportional to the quality of your aftercare. After two months, taking out the braids is recommended to avoid hair damage and thinning.
Can you get your braids wet?
Certainly, you are welcome to. Braids can be washed to get rid of buildup and maintain a healthy scalp. When washing your braids, however, you should pay more attention to thoroughly cleansing your scalp than you should to thoroughly washing or even wetting the extension itself. Be sure to dry your braids thoroughly after washing them.
How can you get old braids to look new again?
Braids are very long-lasting because they are a type of protective hairstyle. Using a styling product like gel or mousse to tame flyaways and smooth out frizz can give your braids a whole new lease on life.
Conclusion
The braiding technique known as "box braiding" allows for a great deal of pliability. With them, you can't be too rigid. So, I take it you're not removing those braids every two or three weeks anymore? Maintaining your braids for a bit longer can relieve some of the stress that constant styling can put on your hair.
Revitalizing your box braids with styling products is all that's required to achieve any of these looks. Remember, though, that if you want to avoid frizz after two months, you'll need to get rid of the braids.