It's encouraging to see a once-popular style make a comeback as an improved version of itself. This article describes knotless braids trends in 2023.
Even though it's been around for a long time, recently it's become the go-to protective hairstyle for African American women and women of color in general.
In addition, the popularity of the hairstyle is increasing because social media platforms like TikTok and Instagram are promoting the style's positive aspects. If you don't join the current movement, you may soon find yourself in the minority.
I won't bother you with questions about why you haven't tried the no-hassle hairstyle yet, but if you're here, you've come to the right place to find out what's been all the rage on social media and to select your preferred style to take you from average to cutting-edge.
What is a Knotless Braid?
A knotless braid is not a novel hairdo, as I've already mentioned. The distinctive characteristics of this hairstyle, however, have caused it to make a dramatic comeback.
The knotless braid is an alternative to the box braid. In this braid style, the knots at the base of your hair are avoided. Instead of tying a knot to begin your braid, you feed in the yarn at the end of your previous braid. Artificial braids can be patched in using this method.
The braid is begun with the person's own hair, and the braiding hair is gradually woven in. As a result, you now have painless and feathery braids attached to your head.
If you're sick of dealing with the discomfort of braids, this is a viable option to relieve your head and neck aches.
In addition to relieving you of tight knots and pain, this protective style will also keep your hair from becoming tangled and giving you headaches. If your scalp is sore and sensitive, your hair is almost certainly salvageable.
It's the standard hair for ladies who want to protect their hair without sacrificing style. As a result, it's all the rage in cyberspace at the moment.
Trendy Knotless Braid Styles
Knot-free braids work well on both unprocessed and chemically-processed hair. It's difficult to pick a favorite version of the fascinating hairstyle because it comes in so many forms. However, if you're ready to give the hairstyle a shot, you can begin with these chic knotless braid styles.
1. Jumbo Knotless Braids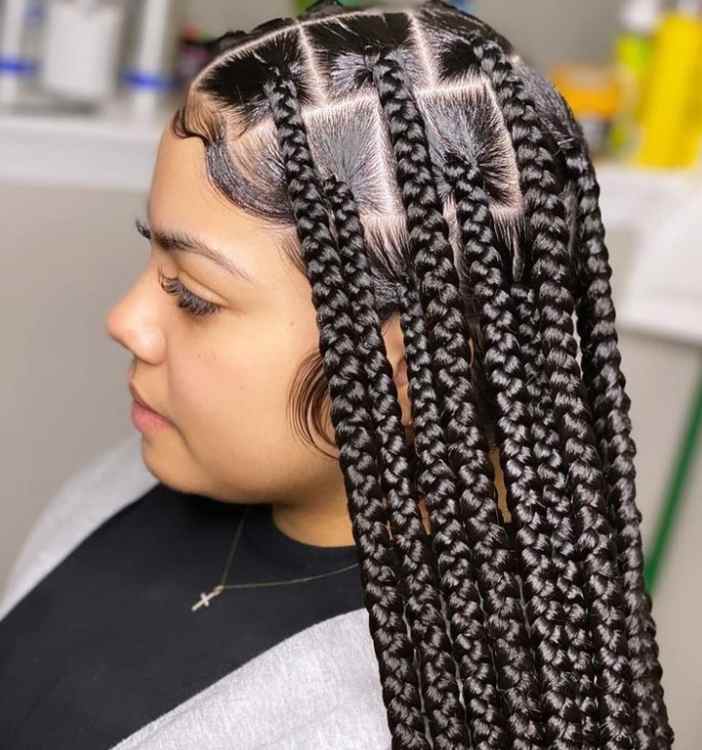 If you're a fan of large braids, you should put jumbo knotless braids at the top of your list of favorites. Modern and understated best describe the design. Also, unlike with conventional jumbo braids, you won't have to worry about adding extra weight to your hair.
You'd adore this cut because of how well it frames your face and minimizes your features.
2. Knotless Braids + Triangle Cut
The underlying angular cuts of the triangle cut have always appealed to me, so it has always been one of my favorite styles. Your triangle cut will look even more stunning with a knotless braid, as the braid will be initiated by your hair.
Because of this, natural hair and braiding hair are easily interchangeable and complementary to one another. In addition, having neat, symmetrical lines across your head is very cute.
3. Loose Knotless Braids
This is dedicated to my female friends who wear their hair natural or are in the process of making that change. Loose knotless braids are a great option if you're looking for a style that won't constrict or feel too tight. The style requires little effort, and it would shield your hair from the elements.
Another plus is that it prevents your hair from sticking to the braids in humid climates. This style of hair is perfect for basking in the sun or heading to the beach.
4. Knotless Braids + Beads
You can add the finishing touch to your braids by accessorizing them. If you enjoy beaded tribal braids, knotless braids should come easily.
The style also provides an additional benefit of making you appear older than you actually are. This hairstyle brings out your fresh, young look.
5. Knotless Braids + Curly Ends
In the same way that the beads elevate your braids, the curls do the same for your hair. Curls, on the other hand, elevate the style of your braids to something more refined. Elegant is the best word to describe them. On top of all that, it's aesthetically pleasing and captivating.
You would definitely get noticed in this outfit. Because I have done it before, I know it works. Also, it instills a sense of assurance in your ability to style your curls.
6. Bohemian Knotless Braids
The feed-in method is used for the knot-free braiding style. The aesthetic stands out on its own. You can make your braids even more sophisticated by curling specific sections. The bohemian braids put a chic spin on the idea of independence.
Plus, the cut gives the impression that your hair is thicker and longer than it actually is. To put it simply, the defining style is unparalleled.
7. Short Goddess Knotless Braids
The Goddess Knotless Braid is a sophisticated take on the popular bohemian style. Curls and braids of a medium size are used to create this look. The braid is medium in size; it is neither too large to be noticed nor too small to go unnoticed.
Hairstyles involving braids can be worn heavily or lightly. If you wear your braids in any style, you won't feel weighed down by the weight of the roots thanks to the lack of knots.
8. Gorgeous Knotless Braids
When you're in a pinch, this is the kind of look you can throw together. There's not much work involved, and the process would be as comfortable as possible. The idea behind the style is simple and practical. One can easily count the few braids that cover your head.
9. Bob Knotless Braids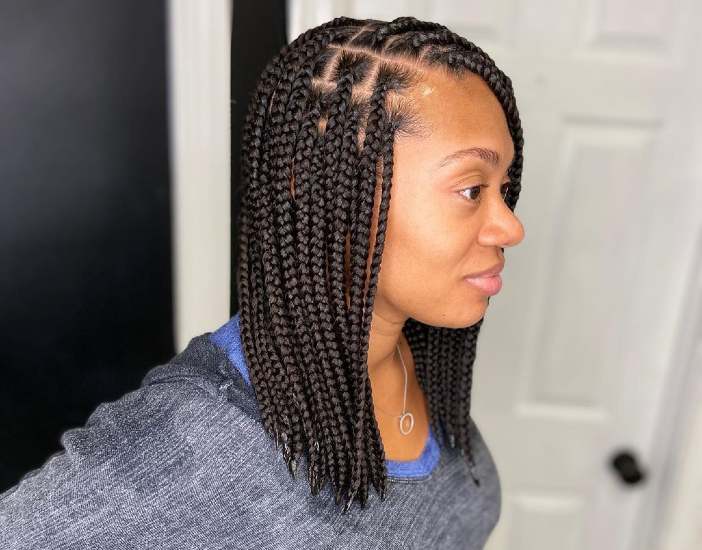 Try the bod braids with a knotless twist if you want your hair cut short and fancy. If you're a free spirit and want to express it, this hairstyle is for you. Also, if you want to give this look a little extra edge, try fading or taping the edges.
10. Deep Parted Knotless Braids
Braids could be worn down the middle or to one side. A deep parting complements any hairdo because it draws attention to your face. It will give you an edge and highlight the structure of your face if you deep part your knotless braids.
11. Ombre Knotless Braids
Braiding your hair in bright colors makes a statement. But if you wear complementary colors, people will take notice. You look even more badass with your hair done in ombre braids. In addition, if you pick the right colors, the style will bring out the best in your skin.
Unique blending of color with your natural hair or a darker shade makes an ombre hairstyle stand out.
12. Blonde Knotless Braids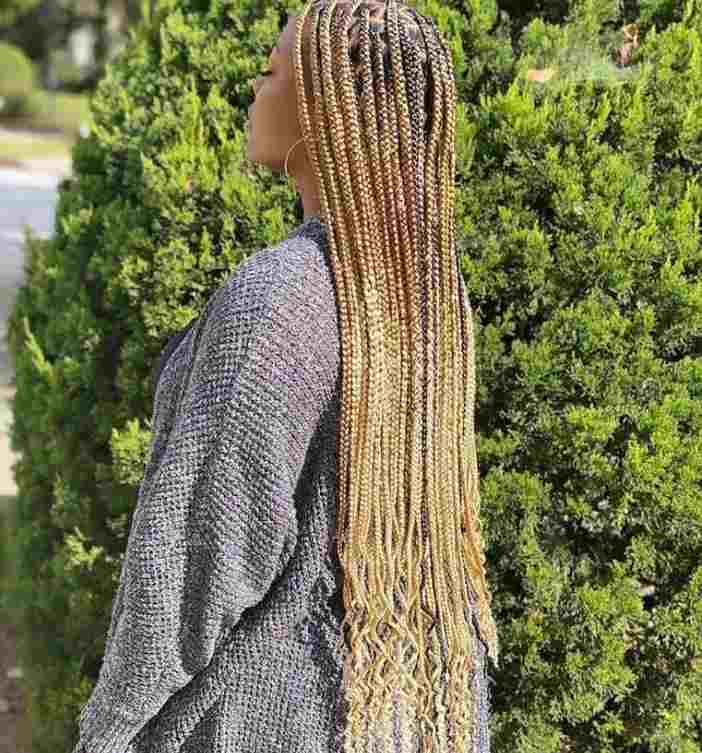 Do you have gold highlights in your hair? Invest in a knotless braid that matches your blonde hair. There would be no artificiality in the braided hairstyle. And having dark hair is of no consequence either. An eye-catching lowlight can be achieved by using a different color than the rest of the braids.
Put on a hairstyle that will bring out the best in your face color. The outcome may vary with the specific color chosen.
13. Red Knotless Braids
Red is a fiery color. It's bold and dangerous. Wearing your knotless braid hairstyle in red also gives you an edginess that is young but mature. The color also pops out on dark skin tones, so you would look good on it.
14. Tiny Knotless Braids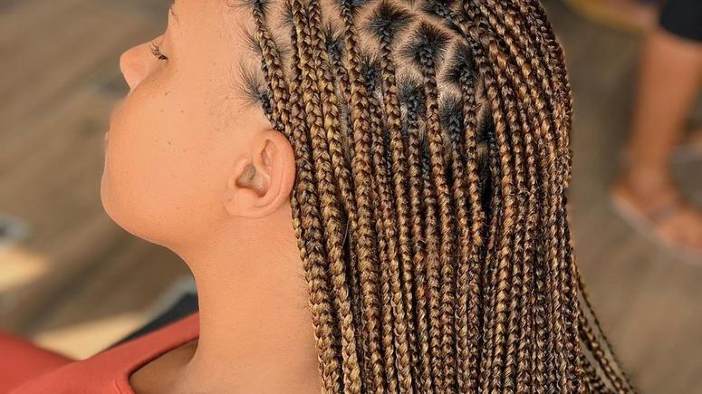 Your tiny knotless braids will protect your hair from thinning and loss in the event of alopecia. To prevent your tiny braids from unraveling and breaking, as well as to keep your roots from showing, it's best to avoid knots.
Small braids can be styled in the same way that a weave is. You're free to experiment with different looks.
15. Knotless Braids High Ponytail
Long, neat braids in a feed-in style will suffice to keep things simple. Make a cute ponytail without worrying about your roots weighing you down this time. The design is easy and comfortable to use.
16. Medium Length Knotless Braid + Bead
Use this hairstyle to maintain your sense of style. Beads of all shapes and sizes and colors are welcome, as are braided hairstyles reminiscent of tribal adornments. If you don't want your hair super long but also don't want it super short, the medium knotless braid is a great compromise.
17. Knotless Braids + Colored Curls
The crimped ends and multicolored highlights in this cut are adorable. Curling the ends of your braids is a stylish option. The color can also help you appear younger. Hair like this is ideal for a modern woman.
As a result of the fashion, you can do and say whatever you want. It's also incredibly chic in an understated way.
18. Knotless Braids in a Bun
What kind of bun do you prefer, if any? Can be worn high, medium, or low. In particular, if you wear a top bun, the bun you wear with your knotless braid hairstyle will stand out. Furthermore, the design is exquisite. Whatever vibe you're going for, a bun can help you achieve it.
See Also: 15 New and Trendy Ways to Wear Box Braids for Men
How do you Care for Your Knotless Braids?
Following a visit to a braider or stylist, the next step is to maintain the braids for as long as possible. Braids are beautiful while you wear them, but they won't prevent your hair from losing its luster over time.
So, it's important to learn how to maintain the hair for a long time. You won't get lost thanks to this handy map.
Maintain hair moisture with an oil, leave-in conditioner, or mousse. The product only needs to be applied once or twice weekly to be effective.
It's important to employ edge control when working with edges. It will keep your hair safe and improve its quality.
Every four weeks, give the edges a quick touch-up to keep them looking clean.
Wear a silk scarf or bonnet over your braids while you sleep. You'll experience less friction while you're resting.
Don't forget to wash the roots of your hair along with the rest of the braids.
Read Also: Protect Your Hair's Natural Oil With Sulfate-Free Shampoo
Frequently Asked Questions
Do knotless braids last long?
In a word, yes. Depending on how well you take care of them, knotless braids can last for up to two months. The feathery feel of the braids on your head is thanks to the painless and airy design of this hairstyle. The key to its durability lies in this.
Will knotless braid protect my hair?
The answer is yes. Instead of starting with a braiding hair knot, knotless braids use the feed-in technique to incorporate your own hair into the braid.
The braid also does not lead to hair breakage after prolonged use. Because there is no stress on the follicles, your hair is better protected. This has the added benefit of reducing the alopecia effect.
Is knotless braid the same as box braid?
The answer is no. Unlike the knotless braid, the box braid has its own characteristics. Box braid has a cousin called knotless braid.
A knotless braid begins with your hair, and the braiding hair is fed in, section by section, until you achieve the desired size, whereas a box braid begins with a knot of braiding hair at the root.
Can natural hair make knotless braids?
The answer is yes. Knot-free braids can be done on any texture of hair.
Braids can be worn on natural hair, but a slip product like gel or wax is recommended. In addition, the knotless braid is the safest option for natural hair that is still delicate from the growing process.
Read More: See How to Style Box Braids: 25 Unique Styles
Conclusion
The hairstyle known as a braid is very attractive. And as time goes on, we try to find ways to maintain these hairdos without harming our own locks. The result was the invention of the knotless braid. Braids are lovely hairstyles. And over time we look for ways to wear these hairstyles without causing damage to our natural hair. This gave birth to the knotless braid hairstyle.
Unlike traditional box braids, knotless braids don't require knots. They're popular among Afro-American women now because they're simple to get, won't hurt, and will keep you safe.