What to wear to hide your belly fat?
It's true that many women, including myself, experience fat gain, especially in the abdominal area, after the age of 40. This is especially true for women who don't exercise regularly, but it's not just a generational problem, and not all women gain fat in the same way.
If we add stress, insomnia, poor eating habits like unbalanced and often hurried meals, a lack of physical activity (both strength and aerobic), and the resulting difficulty in dressing, we can easily find ourselves with a silhouette a bit heavy in the belly area.
Therefore, the waist may also lose its definition at times, resulting in a "apple" shape body.
This article aims to serve more as a "cheat sheet," a list of simple ways of dressing that can help reduce this issue.
Because, thankfully, there are a variety of ways to conceal your belly fat, which ensures that it won't detract from our amazing and chic sense of style.
Therefore, if you want to hide your belly fat with clothing, you'll find a list of 10 ingenious and guaranteed-to-work strategies below.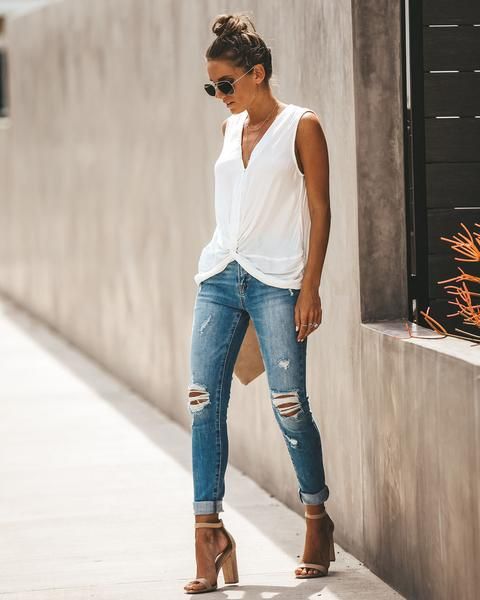 1. Instead of wearing clothes that hug your stomach, try donning some "smart" draped tops.
Tight clothing around the sensitive area should be avoided at all costs. However, you should also stay away from baggy clothing that creates a "trunk" effect and makes it impossible to define your waist.
Clothing with "strategic" small drapes is often the answer. They prove to be indispensable allies if we wish to conceal our midsections through the use of clothing. The ideal placement for drapes and ruches is either on the sides, at waist height (they also look good if arranged asymmetrically, on one side only), or in the center, emphasizing height.
The new seasonal clothing I found here is of high quality and features thoughtful draping techniques like these.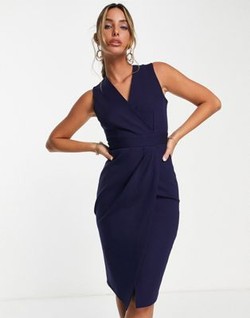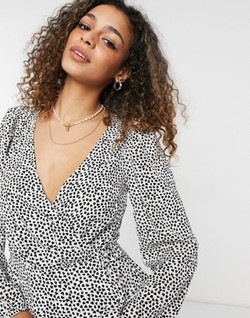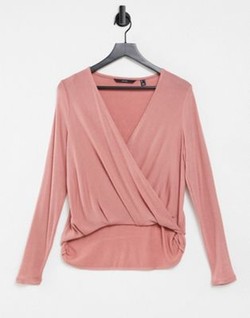 2. Pair long, draped, or asymmetrically cut tops with skinny jeans or leggings.
Wearing pants or leggings with a high spandex content can also be helpful.
In order to conform snugly to the contours of the wearer's body, they will shrink just a tad. Wearing dark clothing with a slightly higher waist will help draw attention to the contours of your legs.
When worn with tops or long tunics, they help to elongate the wearer's silhouette. Extra advice: try out asymmetrical cuts, which leave the "tips" (ends) longer on the side or in the middle of the body.
3. Wearing long cardigans, slim-fit coats, and long blazers will help you create vertical lines.
When trying to hide a belly, layering is key, but long cardigans, long waistcoats like those seen in recent seasons, open mid-season coats, and long blazers can also be very effective.
Locations with a large inventory of long cardigans: see HERE for a wide variety of stylish, high-quality clothing, and more besides HERE.
Long blazers: See here for a wide choice .
4. Do not accentuate your stomach by wearing bulky jewelry or clothing.
You can wear a belt with any of these outerwear items: coat, top, or cardigan. Even if you lose a lot of weight, you may still have a defined waist and a slightly "high" middle.
In this case, ensure that the belt is not too tight but rather loosely knotted and, most importantly, that it rests at your natural waist rather than your bust's widest part.
If your waist is defined despite the dreaded belly fat, you can also take advantage of this effect by wearing wrap dresses and tops (it often affects women with an hourglass and over 40 physique).
Here's a tip: instead of tying the belt in the exact center, try knotting it slightly off to one side. The slimming effect will be more pronounced, and the overall style will be both relaxed and sophisticated.
5. Tops and blouses should not be tucked into pants or skirts (at least not completely…).
If you're trying to hide belly fat, you should probably avoid the traditional tuck-in because it draws attention to any flabby areas, like a muffin top or an undefined waist.
This is because a horizontal line will be created at the fullest part of the belly if the blouse is tucked in completely.
However, it's not safe to leave the top off altogether, as this can cause the "trunk" effect (where the bust appears to be the same width as the hips at every point) to appear.
So, it's possible that you prefer…
tops that stretch slightly but still fit closely to the body and are just long enough to cover the hem of the trousers
As you can see, this photo only shows a partial tuck-in.
6. Put on some waist-controlling bottoms.
Most of the time, all you need is a pair of jeans with a moderately high waist to keep your stomach in (try some to find the exact waist height you need, the ideal one for your proportions). Try a dark color or wash to bring back your old silhouette.
You should also stay away from extremely high waist models, as they don't flatter most female figures and make it tricky to tuck in tops and draw attention to your waist.
However, if you have a short torso and broad shoulders, you run the risk of exaggerating the appearance of your bust.
You should avoid buying pants that sit awkwardly on your stomach.
There are also excellent options available that have a shaping or slightly restrained effect, which is helpful if you suffer from a muffin top or a round lower abdomen.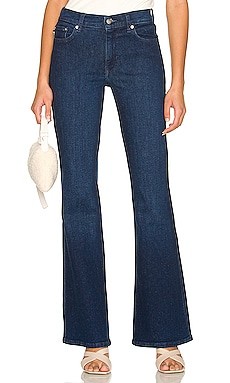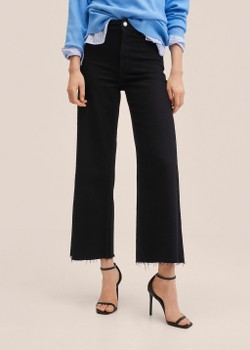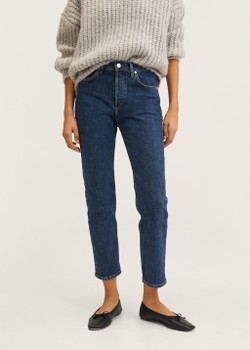 7. Dressing in prints is a great way to hide your belly fat.
If you want to conceal your belly fat, you should think about adding some printed clothing to your wardrobe. In fact, carefully chosen ones can "confuse" the viewer's perceptions.
Pinterest image of a top with a fancy print, a central drape, and a longer back. This top has multiple slimming effects.
Basically, you should pick a printed top in one of the above silhouettes (wrapped, asymmetric, draped on the side, crossbody etc.).
The same effect can be achieved by layering a patterned top over a long, solid-colored vest, preferably in a dark color that picks up one of the shades of the pattern.
8. Many "thin" celebrities swear by shapewear to maintain their figure.
Numerous high-quality options are currently commercially available. You don't have to wear it all the time if that's not your thing; save it for when you really want people to take you seriously.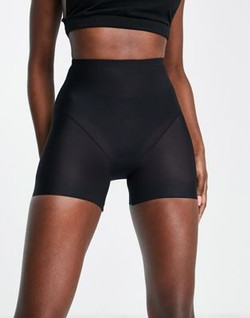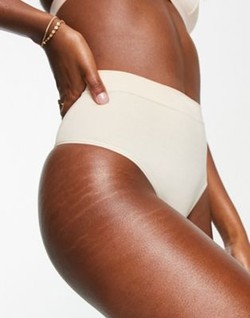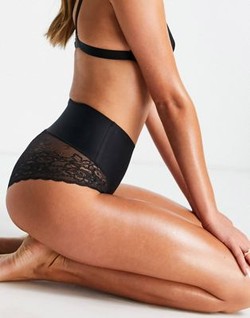 9. Stop trying to cover up your stomach and start showing off your awesome skills…
It's easy to get stuck on the issue at hand when considering how to dress to hide your belly fat, and this can lead to a loss of perspective and appreciation for the many positive qualities we possess.
Specifically, what parts of your body do you adore? Just what steps could you take to better them? Everyone has both strengths and weaknesses; the key is to play up the former while at least trying to lessen the latter.
Some examples of this would be exposing some skin at the bust, the shoulders, or the lower legs.
Check out the latest offerings of the season and pick out something that will make you feel fabulous, maximizing your strengths.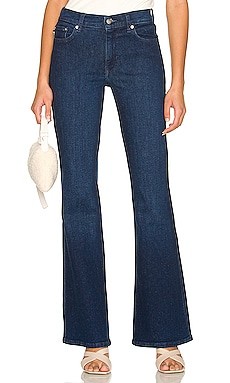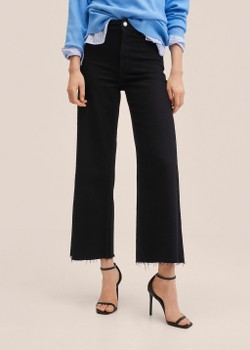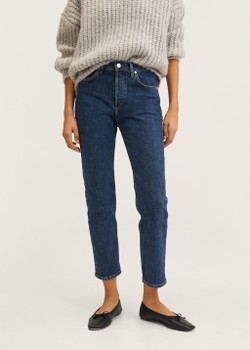 10. Optimal sleeve length should be chosen
It's natural to zero in on the stomach area when considering how to disguise extra weight.
However, sleeve length is a crucial detail to keep in mind. The widest part of a person's midsection can be highlighted by cutting off their sleeves at the belly button.
As a result, you should aim to dress in garments whose sleeves end above your belly button (ideally at waist height) or below your hips when your arms are at their natural length when at your sides.
The correct sleeve length is determined not only by your arm length, but also by the location of your belly button.
Finally, find the clothing labels that best complement your figure.
Even women with the most ideal and proportionate physique and shape have brands that dress them more or less well. Perhaps you have already made this choice in your mind, but if not, I invite you to reflect on this aspect.
Both high-end and budget brands suffer from this issue. H&M, for instance, has consistently provided the best fits for my body type (even if the quality hasn't always been up to par, so I've learned to let that go), while Mango and Zara are less flattering. The same holds true for more expensive labels.
Avoid aggravation (and returns, if you shop online) not because of your body type, but because different brands have different sizing standards.
Mark down the labels whose clothes flatter your figure and complement your style. And make an effort to center your shopping efforts on them; you'll thank yourself later.