Embrace your figure and don't be afraid to show off your curves by stepping up your style game. Best style to hide a tummy 2023.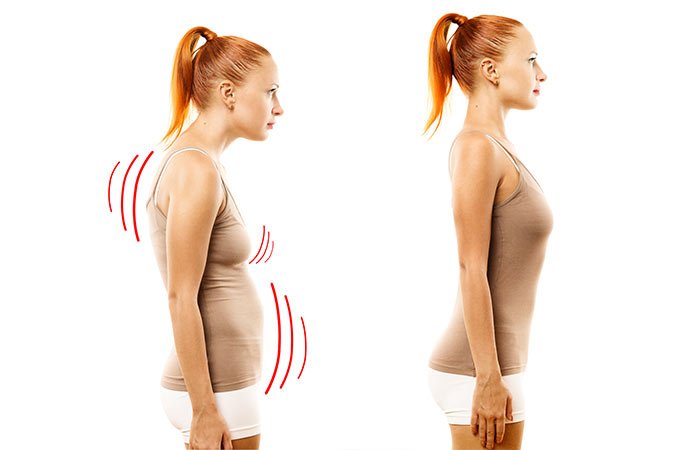 Everyone has a unique body, so it's important to find the right garment for you. Plus, if you're self-conscious about your stomach, a muffin top, or flabs, savvy shopping is your jam. Not to worry, because we have some amazing dresses to hide belly that are sure to work like a charm. It's time to bid farewell to the days of fruitless shopping for the perfect wardrobe staples. Using the below options, tricks, and tips, you will fall in love with shopping again because you will be able to find your dream dress everywhere. It's beautiful the way you are, so stop trying to change. Exercise regularly, eat well, and never stop caring about how you look. Just read this whole article and you'll know exactly what to do to reach your objective. Stop wasting time and take a look at what we've prepared for you right now. Wherever you go, now is the time to be the center of attention.
Clothes to Hide Tummy: Proven Strategies
1. Getting It Right When It Comes to Lingerie and Underwear
2. You Can Save Yourself With Some Form-Fitting Garments
3. Your Posture Is Crucial!
We don't give our posture the attention it deserves, but that needs to change. One of the many things that can add up from not paying attention to ergonomics while seated or standing is discomfort. Bad posture has been shown to make a bulge even more prominent by causing the abdominal muscles to relax and sag. Work on your posture not just because it looks good in nice clothes; it's good for you in general. Try to be patient and you will notice a difference soon enough. You should keep in mind that slouching will exacerbate the problem.
4. Knowing the ins and outs of the industry and how to dress for success
The coolness of flashy and loud styles has long since passed. Sophistication in one's appearance and the ability to successfully pull it off are the new watchwords. First, though, you should focus on strengthening your foundational knowledge. Learn to recognize your weaknesses and strengths. Dress in ways that draw the eye away from your stomach, even if it's just because of the dress's flowy cut or pattern. Dresses that cinch in at the waist are another good option for disguising a tummy. Keep away from skintight clothing unless you are confident in your ability to flaunt a potbelly. Dress to draw attention to whatever feature you've decided to highlight.
You May Also Like:
·         How to dress to hide belly fat 2023
·         How Big Is A C Cup Bra? Sizes & Measurements
·         Cosrx Acne Master Pimple Patch Ultimate Review
5. A master of hues, textures, and textiles
To begin, there is a substantial distinction between the various fabrics; each color and pattern is rendered uniquely on each one. Dark colors, flowy fabrics, and vertical patterns will do the trick if you're trying to hide your tummy. In most cases, this approach will produce the desired results.
6. Stack It On—And Pretend
Another trick that can magically conceal your flabby stomach is to dress in layers. You can look sharp in a tank top and plaid shirt, a knee-length dress and a cape, or a pair of trousers and a button-down shirt, blazer, or shrug. Unbuttoning your top layers has a dramatic effect that makes you look taller. This is pure fantasy.
7. Avoid skintight dresses at all costs.
I'm not a fan of anything that hugs the body, not that my body would even let me. So staying away from these isn't hard for me. Whatever you choose, it should have motion, bounce, and clarity. If you feel good in your own skin and your clothes, then do it!
Some of the difficulties I encountered while shopping could have been avoided if I had known these. Learn the ins and outs of each one by taking your time. Let's use these guidelines as a foundation as we explore dresses that will do more than hide your flabby areas—they'll also give you a sense of style and self-assurance.
What to Wear to Hide Your Belly: Some Outfit Suggestions
Are you prepared to check out the dresses that effectively conceal tummies and love handles? Look through the pages and see what characteristics best describe you.
1. Peplum or Ruffle Tops
Dresses and tops with peplums cinch at the small of the back and train down to the belly button, creating the illusion of a higher waistline. Superior for flaunting your curves. Ruffled tops deflect attention away from problem areas and hide the results. It's all about putting together an illusion that works for you.
2. Clothes with a Vertical Pattern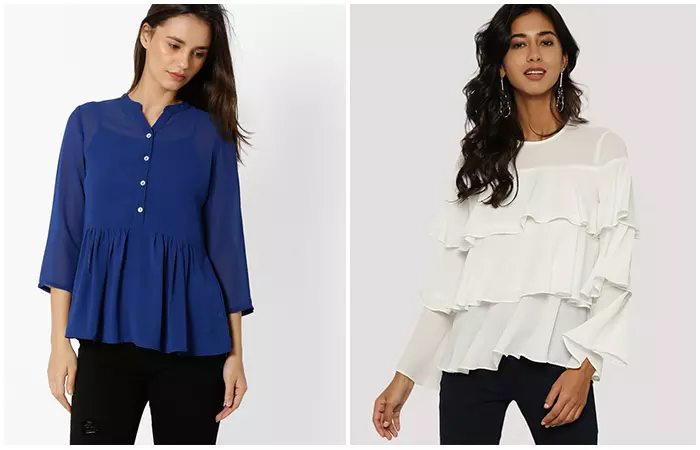 If you're as frail as us, you should wear a vertical dress. Vertical lines elongate the body, giving the illusion of reduced bulk, in contrast to the horizontal lines that make one look wider. By doing so, you can relax and enjoy your outfit without being self-conscious about your stomach.
3. Skirts with Pleats and Simple Blouses
People with a potbelly are stereotyped as being unable to wear skirts. For a long time, that was my own personal opinion as well. Denim or a skirt with a narrow waistband should accomplish this. If you're tired of wearing the same old boring T-shirt or A-line shirt, try switching things up by wearing them with a pleated skirt. These skirts begin at the lowest point of the belly button; therefore, a light and airy top is recommended. Nothing beats a high waisted skirt, if you can wear one.
4. Frayed or pom-pommed tops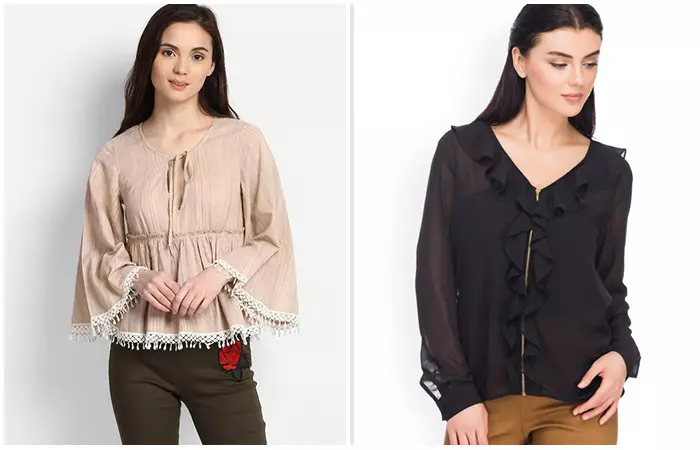 Pom-poms are all the rage right now, and they serve our purposes well. And so do ruffled blouses. All that attention being drawn to the ragged edges and pom-poms helps to hide the less attractive, but more painful, parts. They're fashionable and good for any body type. We need only become proficient at hovering over the spots that hurt the most.
5. Dresses of varying lengths and dark colors
If you want to hide your stomach, wear a dress of a dark color. In the event that you have fallen in love with an item of clothing but are unsure whether it flatters your figure, what would you do? Choose a dark color if you are self-conscious about your stomach. And if it's curly or wavy, that's even better.
6. Oversized Tops With Trousers or Shorts
This outfit is not only failsafe, but also very stylish and sophisticated. Get a size or two larger than you usually would and wear it with skinny jeans, jeggings, or leggings. Wearing a top with a waist band is another option for disguising your belly. Finish your outfit off with the right accessories, and you'll be good to go.
Isn't it incredible that there are clothes made specifically to hide a pregnant belly? Indeed, it is. So, keep your cool and your swagger! These garments will help you feel beautiful while also hiding your growing baby bump. Simply because you do not have toned abs does not mean you have to give up on your fashion sense. Adopt a healthy lifestyle if you want to get rid of the belly for good and learn to appreciate your natural beauty. So, while you're focusing on your diet and exercise, use our list as motivation. Best style to hide a tummy.
Sources:
https://www.fabulousafter40.com/formal-dresses-that-hide-belly-bulge/
https://www.stylecraze.com/articles/best-formal-dresses-that-hide-belly-bulge/
https://www.jjshouse.co.uk/popular/S/Special-Occasion-Dresses-That-Hide-A-Fat-Belly