What type of dress should I wear to hide my belly?
Make the top wide and the bottom narrow. Let opposites attract if you like the idea of belly camouflage but also want to show some shape. Wear a pair of trim pants, leggings, or straight or skinny jeans (the latter are useful even if you no longer love them) as a base layer under any full-cut top, blouse, jacket, or tunic dress to hide your belly.
It's adorable to say "big belly," and it's adorable to look at on chubby little kids and kitties. On adults, however, it has no effect other than to cause unfathomable mental anguish and some mild social embarrassment. Big or small, a bulge is still a bulge.
When I know someone is looking, I usually perform a series of "tummy tuck-ins." The second set of steps calls for discipline and forward thinking. So, the tummy tucks go on, despite the fact that they are extremely challenging to perform in a crowded room. To live, one must take in air.
Other options remain open to me. Modifications to one's fashion sense often prove effective. Dresses and other garments that give the impression of hiding a belly bulge are exactly what you and I need. With careful clothing selection, a flat stomach can be achieved or the appearance of one can be created. Professional camouflage is what I'm referring to.
What to wear to hide a big stomach
Wear dark and solid-colored clothes from top to bottom to hide belly
Wearing dark colors and solid colors from head to toe will make you look taller and thinner. Therefore, you should either go solid, go dark, or go solid and dark.
Wear clothing that skims over the stomach
Tight waistbands can make a person look heavier than they are because they draw attention to the abdomen. Obviously, you should avoid doing that. But not so slack that it forms a tent over your body.
Stylish clothing draped gracefully. Such as a twisted front top or a long cowl.
The button placket near the stomach should not gape open when you breathe, so this is one way to tell if your top is too tight.
This is a common issue for those who are overweight all over, as it is the direct result of selecting clothing based on the bust and hip measurements. When shopping for clothes, keep your stomach size in mind if you have one.
Make sure your waistbands aren't too tight. It's very embarrassing, as it bares your stomach to everyone, even if they weren't looking. Dresses, tops, and pants should have a wider waistband, or you should buy a larger size and have it altered.
That doesn't mean you should go out and buy baggy, unfitting clothes.
Clothing that fits properly is especially crucial for someone who is overweight around the middle. Keep in mind that you want it to be snug, but not restrictive.
Wear clothes with vertical lines to hide belly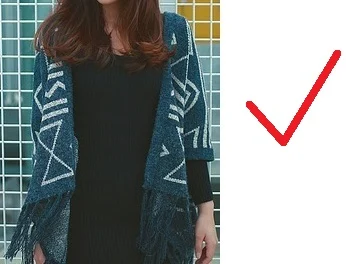 Slimming effects of vertical lines. Printed lines in the vertical orientation are only the beginning. This also applies to the aesthetic lines of a product. Openings, darts, and other cuts are all part of the design line. Such a feature would be a long placket running up the middle of the garment.
A long, open jacket or cardigan can help create the illusion of a smaller waist by creating a long, vertical design line. For the record, this is the one piece of advice I value the most.
Learn more about Design lines in fashion designing here.
Wear hip length or longer tops; Avoid crop tops
When paired with leggings or skinny jeans, a crop top accentuates the tummy. There are tops in this category that expose a bit of the midsection.
Those cute short open jackets are included in this category; however, when worn over hip-length loose tunics, they do not look too bad.
No decorations in the belly area
The aforementioned rule is also applicable to embellishments like ruffles, lace, and embroidery. Furthermore, pockets. If you want to hide the belly, you can't decorate it. Belts that are too wide or draw too much attention to the waist when worn over tucked-in garments can have the same unflattering effect. There were also no imprints anywhere near the stomach.
Bring attention to a body feature that you love
This could be your slim arms, long thin legs, nice cleavage. To draw attention to a specific area, decorate it. Dress in skirts or well-fitting leggings to highlight your lovely long legs. Flowery patches are a nice touch for leggings.
Go sleeveless to highlight your toned arms if you have them. The puffy, checkered sleeves are acceptable. Oversized sleeves can help draw attention away from a woman's stomach.
Wear a high waistline to camouflage that tummy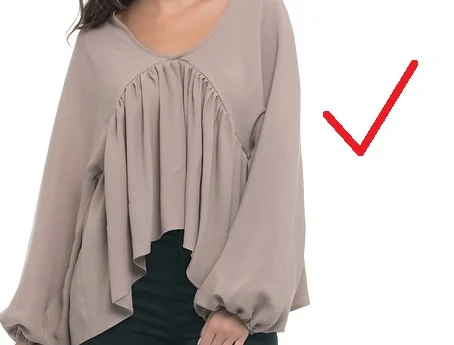 Pants with a high waist and dresses with an empire waist are both appropriate options. A low rise pant can be rolled up over a protruding abdomen. If you wear pants that sit high on your waist, you won't have to worry about untucking anything.
A dress with a high waistline, such as an empire dress or a wrap dress that tightens well above the waistline, can help to camouflage a person's stomach and love handles. It needs to have a trim (silhouette) and flowy (fabric) silhouette (It should not be made of a thick fabric or be of a blousy style). Dresses with an empire waist and long sleeves in a dark color can make a woman's stomach look smaller. This dress works best when worn with an elastic waistline or a belt at the natural narrowing of the torso, rather than right over the belly button. However, the empire style can backfire if you have a large bust. It may give the impression of a fuller stomach.
A peplum top with the flare over the stomach is another flattering clothing for a big stomach.
On the other hand, too many gathers or ruffles beginning at the waist and continuing over the stomach can accentuate the abdomen. Try to find the middle ground.
Choose fabric well
Avoid wearing tops that are too bulky, especially in the stomach area. Wearing bulky clothing can give the illusion of being much larger than we actually are. The best examples of this trend are heavy fabrics and boxy cuts. Thin knit fabric is clingy, so avoid it or wear it under better jackets if you must wear it.
Wear firm stretchy comfortable bottom wear
Leggings that are firm but stretchy are an excellent choice for bottoms because they conceal the stomach area without being as restrictive as rigid jeans.
A good bra can help
A sloppy appearance is a common result of wearing a poorly fitting bra. Wear a bra that lifts and shapes the bust to draw attention upward and away from the waist.
Use a Tummy shaper
How to Prevent a Pot Belly I warned you not to wear anything too constricting around the midsection. However, a waist shaper, the modern-day corset, is not included. If you wear a waist shaper belt under your dress and pull it tight, it can add several inches to the appearance of your waistline.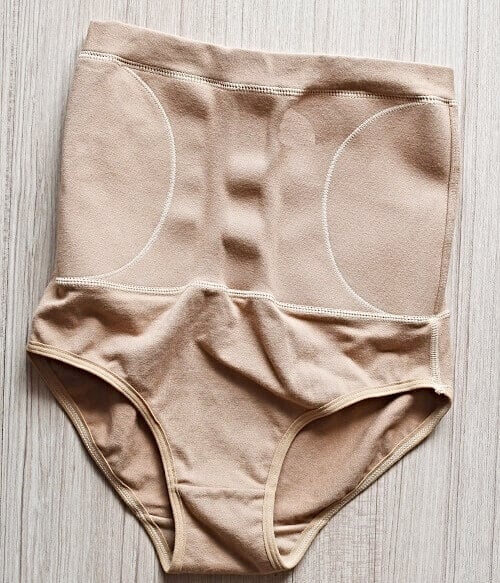 Waist trimmers, body shapers, tummy shapers, tummy control belts, shaper briefs, and shaping tights all serve the same purpose. All of these undergarments are created with the goal of making you appear slimmer and more proportionate.
Do these methods really help get rid of belly fat? No. That's a naïve inquiry, but it's also optimistic. Ah, if only! But they could enhance your beauty by concealing any unwanted fat around your stomach or hips. How about some more of your favorite suggestions?
Read Also: Body positivity & fashion
How to dress to hide belly fat 2023
Sources:
https://www.fabulousafter40.com/formal-dresses-that-hide-belly-bulge/
https://www.stylecraze.com/articles/best-formal-dresses-that-hide-belly-bulge/
https://www.jjshouse.co.uk/popular/S/Special-Occasion-Dresses-That-Hide-A-Fat-Belly