Do you want to look your best on your wedding day and need some inspiration for your nails? If you're looking for beautiful ideas, you don't need to look any further because we've got you covered. Having a nice manicure set is a great addition to your arsenal. Everyone will be staring at you, so make sure you look great. That's why we've compiled a list of elegant and beautiful wedding nail designs that we know you'll adore.
There is a plethora of information to consider in this post. Go ahead and investigate them.
Wedding Nail Designs Ideas That Are Elegant
1. Simple White Short Nail
Source: @vera_studia
Do you want to add some sophistication to your nails, but keep the design basic? You've made a fantastic decision. Unfortunately, not everyone is a fan of long wedding nails. In any case, that's fine. You could use a short and easy nail design like this one.
2. Shine Like A Diamond
Source: @nailedbyvu
That's a nail art design that'll get people talking. If you're looking to make a statement, this nail art design is for you. You're in the right place if you enjoy going the extra mile. Here, give this nail art a shot.
3. Simple Ombre Nail
Source: @kaylie_101192_nails_art
If you're a fan of ombre nails but also want something a little fancier, but still easy to do, consider this option. Then take a look at these nail art examples.
4. Lilac Nail Design
Source: @merlin_nails
This nail is glossy and beautiful.
5. Simple French Tip Nail
Source: @elina.nails.art
A classic French tip is always a safe bet for nail art. It's classy in its understated sophistication. Adding the white tip improved the nail's overall appearance.
6. Gold Geometric Lines
Source: @magja_paznokcie
Match your gold rings with these manicured fingers. Thus, if a gold wedding band is in the cards for you. This nail is the perfect accessory for your ring.
7. Glass-Like Nail
Source: @merlin_nails
This nail has a cute glass design. Lovely nail art, if I do say so myself.
8. Glam Me Up
Source: @arellyys_nailss
A sophisticated and glamorous nail, this one is a definite show-stopper. There are just the right amounts of flowers, crystals, and sequins. Absolutely nothing here is excessive.
9. Shimmery Gold
Source: @nailedit.tt
It's hip to have gold glitter polish on your wedding day. Instead of wearing the same old nude, white, or baby pink nails every day, why not try something new and exciting?
10. White Almond Nail
Source: @ohmynailsjulia
Nice work on the nail art.
You May Also Like:
· How to dress to hide belly fat 2023
· How Big Is A C Cup Bra? Sizes & Measurements
· WHY IS MY HAIR CURLY AND STRAIGHT AT THE SAME TIME?
· How to Make Natural Black Hair Curly: 5 Simple Steps
· Cosrx Acne Master Pimple Patch Ultimate Review
11. Curved French Tip
Source: @rylee.breann
Perhaps you'd like to try the curved French tip nail design instead of the traditional straight French tip. There has never been anything quite like this, and it's incredibly straightforward.
12. Gold Foil Highlights
Source: @karinails.artist
This nail's design was elevated by the addition of gold foils.
13. Ornate Nail
Source: @kushnareva_nails_studio
A beautiful design for elaborate nail art. Just the right amount of sweet and easy.
14. Simple and Classy
Source: @lovely_nails138
If you want a simple nail design, but can't decide between a long trail or a simple design, add the long trail to one nail. Crystals added a touch of sophistication to the manicure.
15. Baby Pink Nail
Source: @merlin_nails
The ombré effect of light pink to deeper pink on this nail is stunning. And people will be gawking at your glittery nail art. This manicure is absolutely stunning.
16. Nude Nail With Shimmer
Source: @matrioshka_nails
Here's yet another chic and easy manicure for today's blushing brides.
17. Silver French Tip
Source: @meraki_nails_cardiff
You may opt to try something new with your nail art. Alternately, if you don't want to use white, you can use silver for your French tip nails.
18. Sparkly White
Source: @merlin_nails
Use a shimmering white nail polish in place of a regular white one for a more elegant wedding manicure.
19. Single Rhinestones On Each Nail
Source: @gianasiska_
Check out how nicely the ring's rhinestones go with the engagement ring. Just stunning.
20. Marble Plus Foil
Source: @susannguyen02
Do you consider yourself to be someone who relishes taking chances? If so, take a look at these nail art instructions.
21. Classic French Tip Nail
Source: @svetlana_stanovaya
Simple but lovely nail art, perfect for the bride.
22. Square Nails
Source: @merlin_nails
In the event that you have a thing for square nails. Take this as a cute nail art example.
23. Swirl Nails
Source: @sara_nails_milano
It's my favorite manicure trend right now. Swirl nail art is so cute! Swirls improve everything, so if you're the trendy type, this nail design might not be a bad idea.
24. Matte White
Source: @luxxinails
This is a simple nail design to duplicate.
25. Marble Nail
Source: @pinterest
Do you want to try something new? And if that doesn't work, this nail might.
26. Marry Me
Source: @rudman_nailstudio_nsk
Make this adorable set by combining a nude polish with a white tip and embellishing it with rhinestones.
27. Crystal Nail Beads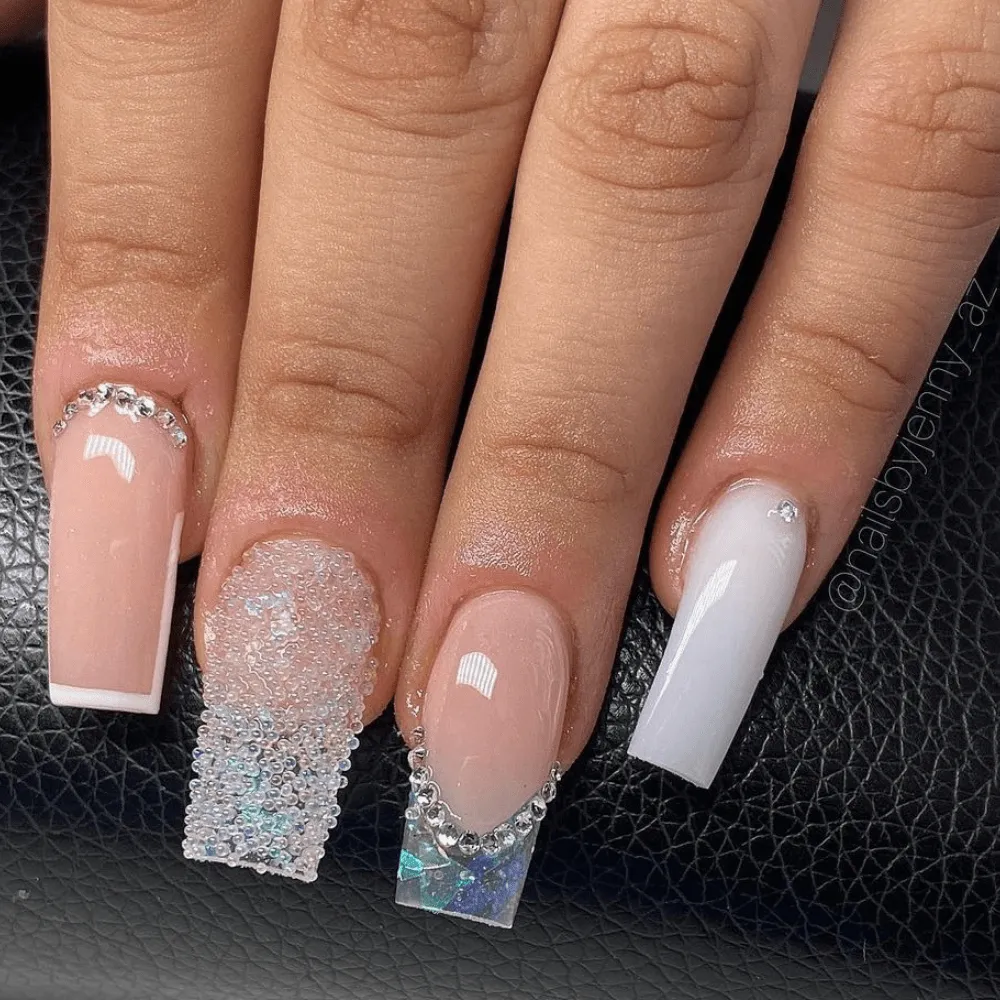 Source: @nailsbyjenny_az
Add some sparkle to your wedding fingernails with these beautiful crystal micro beads. The micro beads can be applied to just one nail, while rhinestones are used on the others, as shown in the example image.
28. Flower and Butterflies
Source: @nailsbylauhzar
29. Heart You!
Source: @dorinailsss
30. Simple White Nail
Source: @treasureyou_nails
31. Shimmer Shimmer!
Source: @merlin_nails
32. It's My Big Day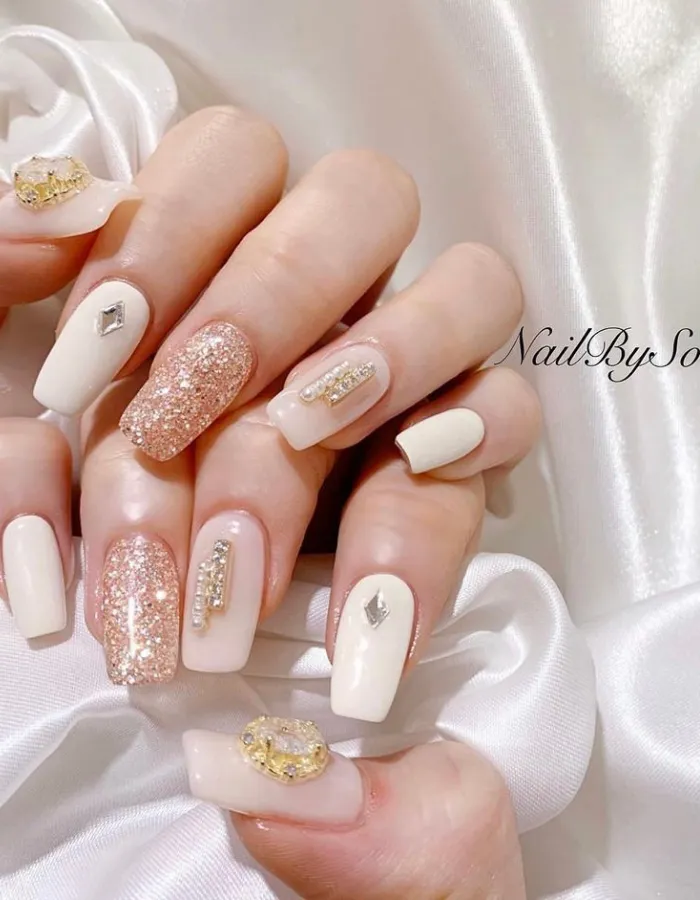 Source: @nailbysoo
SOURCES: 
https://www.allure.com/story/wedding-nail-ideas
https://www.instyle.com/wedding-nail-ideas-7370920