Monochromatic outfits are the easiest outfits to put together, If you are confused on what to wear or how to style it, just wear everything in the same colour shade and accessorize with a nude or print bag.  I recently wore this Pink Monochromatic Ensemble, and I must say, it is an absolute game-changer. This versatile outfit has quickly become my go-to choice for various occasions, and I have received countless compliments every time I wear it. If you're looking for an outfit that exudes elegance and can be styled to perfection, this is the one!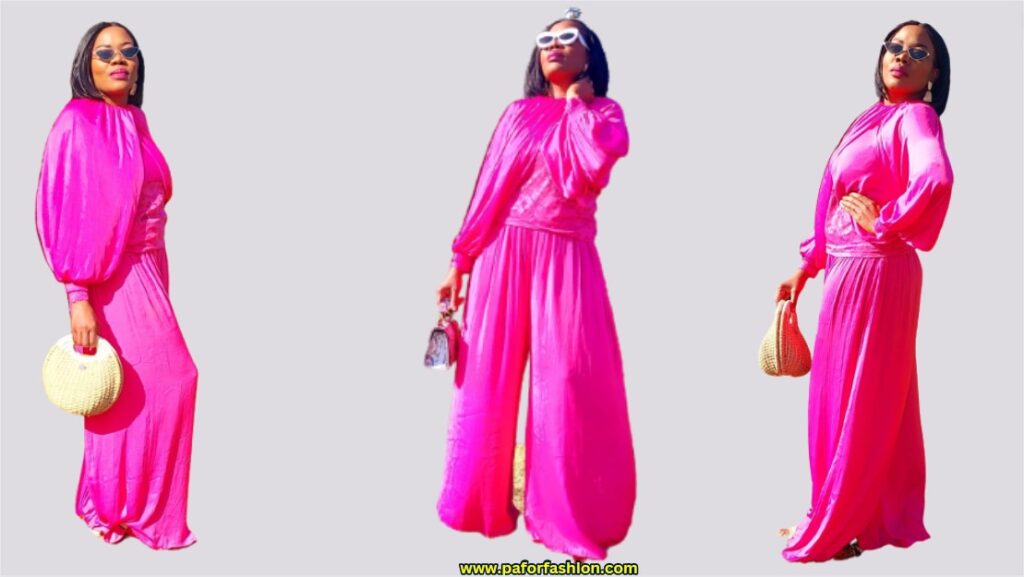 A Versatile Outfit for Every Occasion
Monochromatic ensembles are truly versatile outfits that caters to various occasions. Whether you're attending a party or enjoying a summer outdoor event, they are a perfect choice for a stylish and elegant look.
Styling Options
Party-Ready Glamour: When heading to a party, Monochromatic ensembles can be effortlessly accessorized with a clutch or satchel and a pair of stunning stilettos. This monochromatic pink color scheme adds a touch of sophistication, will make you stand out in any formal event.
Stylish and Casual: For a trendy and casual summer look, pair this ensemble with sunshades, a summer straw bag, and comfortable flat sandals. Embrace the carefree vibes of the season while exuding style and elegance.
You May Also Like:
· How to dress to hide belly fat 2023
· How Big Is A C Cup Bra? Sizes & Measurements
· WHY IS MY HAIR CURLY AND STRAIGHT AT THE SAME TIME?
· Cosrx Acne Master Pimple Patch Ultimate Review
The Perfect Combination
This Pink Monochromatic ensemble consists of a beautiful co-ord pink palazzo set and a delicate pink lace blouse. The palazzo pants provide a flowy and relaxed fit, ensuring both comfort and style. Paired with the lace blouse, this ensemble creates a harmonious and chic look that is sure to capture attention.
Countless Compliments
Wearing this ensemble, I received an abundance of compliments. The coordinated palazzo pants and lace blouse create a stunning and head-turning look. The feminine pink color adds a touch of romance and elegance, making it suitable for various occasions. I felt confident and empowered, knowing that I was dressed in an outfit that perfectly reflected my fashion sense and personality.
Get the Look
If you're eager to recreate this stylish look, I have found all the items I'm wearing for you. Simply click the attached link and start shopping. Trust me, you won't regret it! Once you've made your purchase, don't forget to share photos of yourself wearing the outfit. Let's inspire one another through fashion and create a community of style enthusiasts.
Embrace Your Style
In conclusion, Monochromatic ensembles are a true fashion gem that offers versatility, elegance, and a touch of femininity. With its endless styling options, it effortlessly transitions from party glamour to casual chic. Embrace your personal style and make a statement with this stunning ensemble. Get ready to receive countless compliments and enjoy the confidence that comes with feeling stylish and fashionable!
Frequently Asked Question
Are Monochromatic Ensembles suitable for formal events?
Absolutely! Monochromatic ensembles exude elegance and sophistication, making it a perfect choice for formal events. Pair it with a clutch or satchel and a pair of stunning stilettos, and you'll be ready to make a glamorous statement.
Can I wear the Pink Monochromatic Ensemble for a casual summer outing?
Yes, you can! The ensemble can be styled in a casual and trendy way. Pair it with sunshades, a summer straw bag, and comfortable flat sandals for a stylish and laid-back summer look that's perfect for outdoor events.
Is the Pink Monochromatic Ensemble available in different sizes?
Yes, the Pink Monochromatic Ensemble is available in a range of sizes to accommodate various body types. When making your purchase, refer to the sizing chart provided to ensure you select the perfect fit.
Are the palazzo pants in the ensemble comfortable to wear?
Absolutely! The palazzo pants in the Pink Monochromatic Ensemble are designed for comfort without compromising style. The flowy and relaxed fit allows for easy movement, making them a joy to wear for extended periods.
Can I mix and match the pieces in the Pink Monochromatic Ensemble with other items in my wardrobe?
Definitely! This Pink Monochromatic Ensemble offers versatility, and you can certainly mix and match the palazzo pants and lace blouse with other items in your wardrobe. Experiment with different combinations to create unique and personalized looks. Remember you can also wear a monochromatic ensemble with other colour shades. 
Sources:
https://www.fabulousafter40.com/formal-dresses-that-hide-belly-bulge/
https://www.stylecraze.com/articles/best-formal-dresses-that-hide-belly-bulge/
https://www.jjshouse.co.uk/popular/S/Special-Occasion-Dresses-That-Hide-A-Fat-Belly
ALSO READ: 30 Half Fulani Tribal Braids Half Knotless Braids Hairstyles