The 'Black is King' movie and 'The Lion King' music album by Beyonce, is the most celebratory ode of the Black experience; it highlights Africa and the African Diaspora. It also showcases the world's most afro-centric fashion designers. Most of the fashion in 'Black is King' was outsourced from upcoming and independent fashion designers.
In essence, Beyonce highlights and uplifts African fashion designers, both at home and in the Diaspora, so that they can compete at the same level as the designers of the western world. Beyonce Fashion Styles brought out the creativity and passion of African designers. This project is so inspiring. Through the use of more black designers in the styling, she amplified the voices and visibility of black designers. Below Anny Egalité gives you the 10 best fashion looks in this magnificent piece of art ''The Lion King: The Gifts'':
1. Dark Blue Dress with Puff Sleeves and Long Train by Valentino (A Typical Beyonce Fashion Styles)
The color of the dress is classic and the silk material is flattering. The hat worn with the dress, adds glamour to the whole ensemble. In my opinion this is the most distinct and most wearable look in the entire movie and album.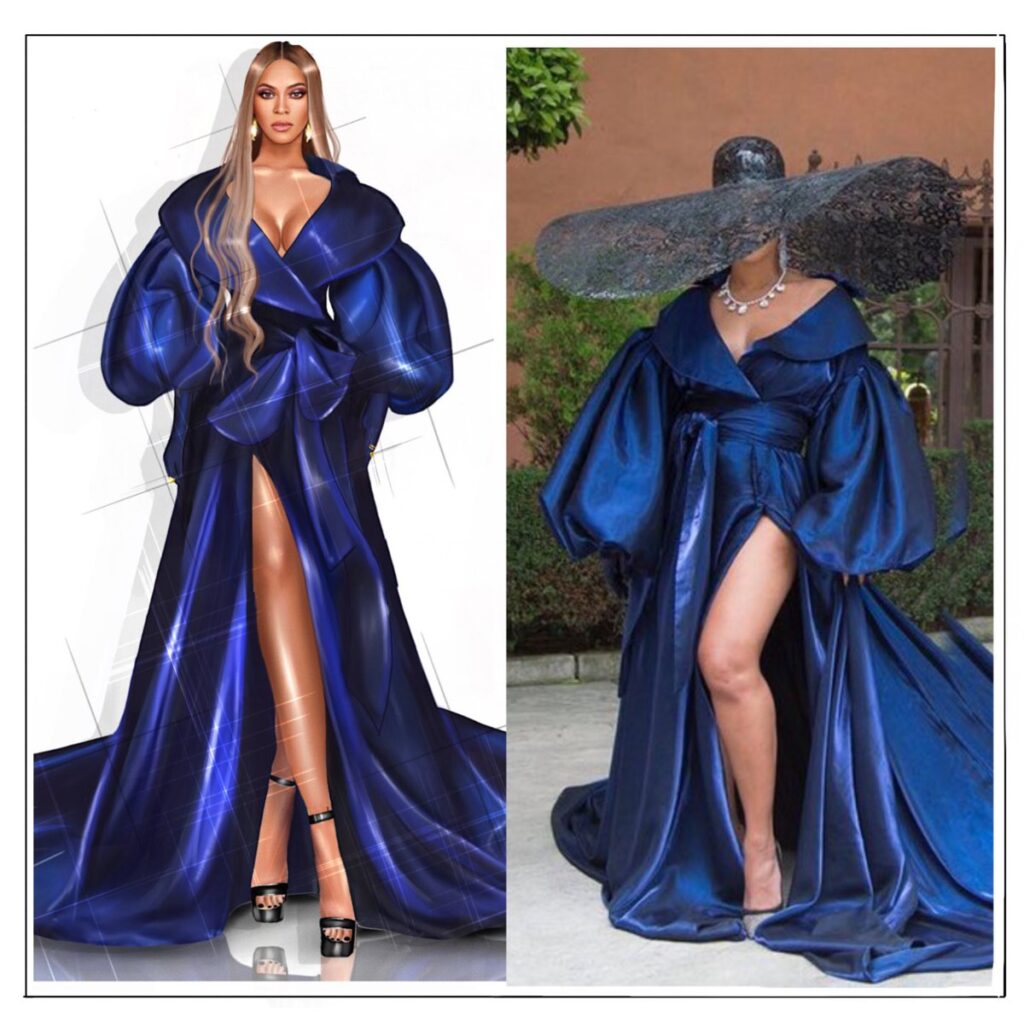 I will wear this look as a wedding dress, an after party wedding dress, or an Oscars/Awards event and a red carpet event. The long train of the dress gives it a royal feel and Beyonce own this look like a Queen.
2. The Velentino Haute Couture Leopard Print Bodysuit
Hand-sewn, it took 10 people and over 300 hours of keenness to detail and craftsmanship to produce this ensemble, as every sequin was hand sewn. Though this is a high fashion brand, you can still get an animal print bodysuit and slay it just like Beyonce. It mustn't necessarily be from Valentino, you can custom make it with your local designers or buy from high street stores.
Animal print dress by Kujta and Meri
There are many outstanding prints worn in 'Black is King 'by Bey and the cast. The Leopard prints, Rolls Royce in cheetah prints and cow prints. The animal prints fantasy throughout the movie, gives a typical afro-centric feel as it is in relevance to the abundance of wild life in Africa. Before now, many people didn't successfully mix animal prints. The way the prints are owned and slayed throughout the movie is exquisite.
3. The Black Tulle Dress in 'Brown Skin Girl' Designed by Timothy White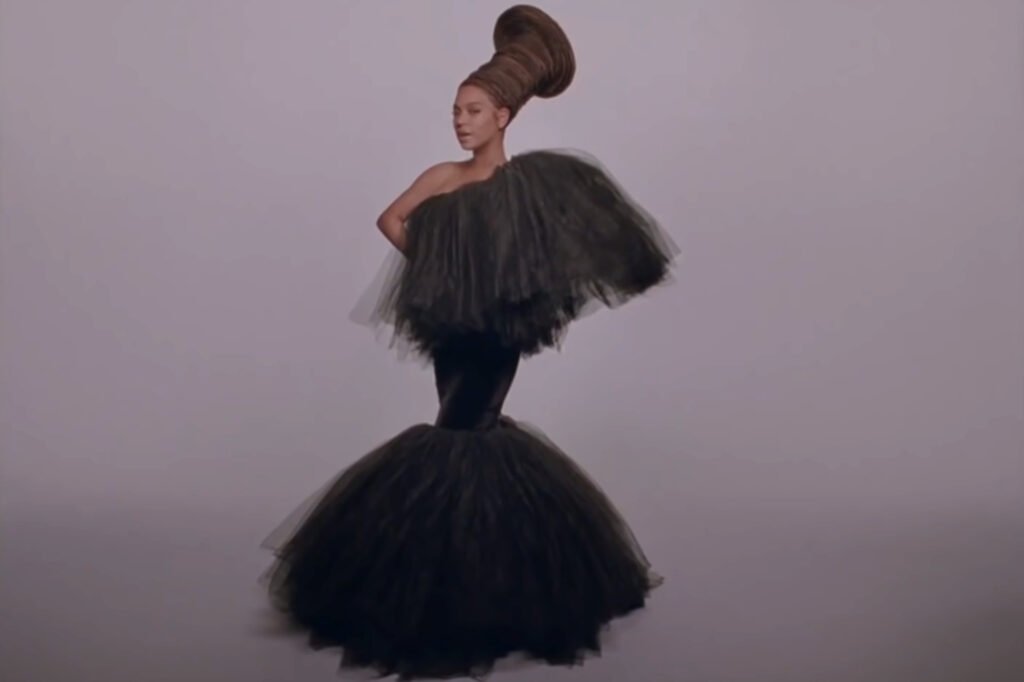 It's got an asymmetrical neck with layers of puffy tulle and a mermaid shaped bottom also layered with tulle. This is an iconic look, though it has so much going on, it can be worn as a wedding dress. Even though it's uncommon to see many people wearing a black wedding dress, this could be a unique and outstanding look for your big day.
4. The Balmain Deep Yellow Dress in 'Spirit'.
Beyonce does justice to this dress as it falls on her curves with an off-shoulder pleated look at her chest area. This dress could pass for an 'A' list red carpet dress. You can slay this dress as a wedding party guest. It's outstanding and the color is unique.
5. The Erdem 2019 Autumn-Winter Collection Dress, Worn by Beyonce
Beyonce is seen at a garden tea party with her mum wearing a hot pink suit and Kelly Roland wearing a checkered pale pink belly top co-ord pant set, Bey wears a fabulously tiered silk gown, that blooms with red, pink, and purple floral. Though the train of the dress is long, it can be customized to fit your taste.
My take-home from this look are; the material is silk, silk is a classy material and you can never go wrong with silk, the florals; the blend of pink, red and purple is exquisite. I can wear this look as a bride at my tea party, in the garden with my girls, as an after wedding party dress and why not as a maxi dress but without a long train. What about you? Is Beyonce Fashion Styles worth it?
6. The Voluminous Hot Pink Tulle and Chiffon Gown by Molly Goddard (AW19 Daira Dress)
It's super dramatic and made of over 100 meters of tulle, hand-smocked bodice and layered tulle. This look, though voluminous, can be worn as a wedding dress for a Beach wedding theme with same colorful bouquet of flowers just as the ones carried by Beyonce in this ensemble. However, you can wear same look but with reduced material to your taste and fit. This look is lovely.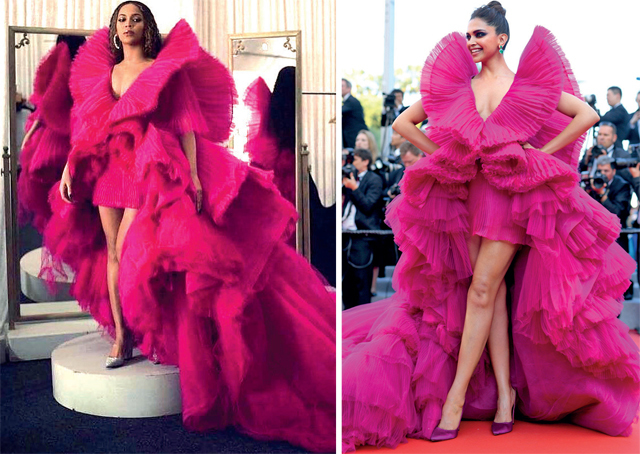 7. The 'd.bleu.dazzeled' bodysuit by Laurel DeWitt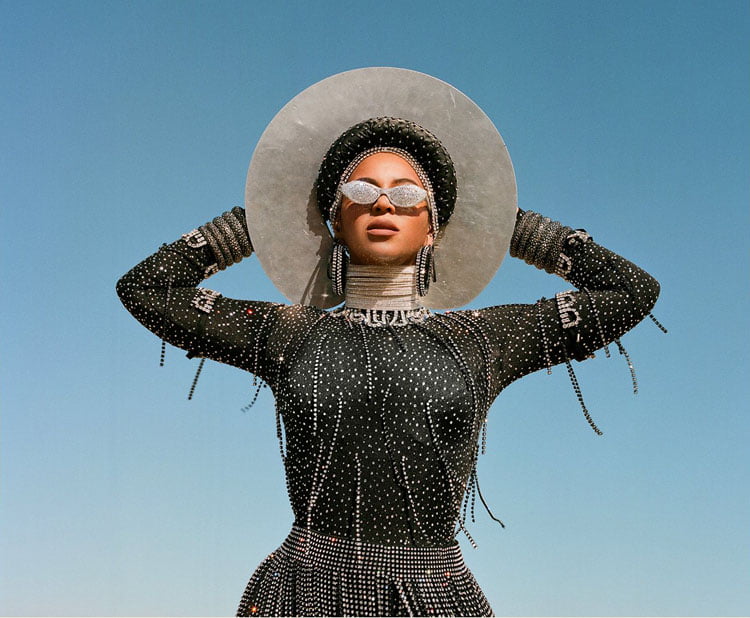 Crystal embedded Rhine tones and long crystal strings bejeweled upon the body suit. It's a master piece or I would rather say it's a work of Arts. I would wear this look to a night out with the girls or for the club, as the crystals will glitter and bling throughout the night.
8. The Jerôme-Blue Nigerian Lace Look, Designed by Jerome Lamaar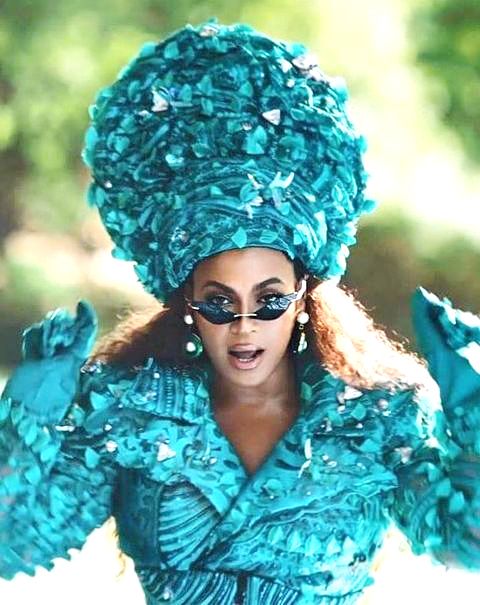 This distinguished look was inspired by women at Nigerian weddings; their looks generally represent the matriarchal, strong and powerful African women. It is accompanied with the gele- inspired head piece which represents a crown of power and motherhood.
9. The All White Lace-and-rope Dress in 'Nile'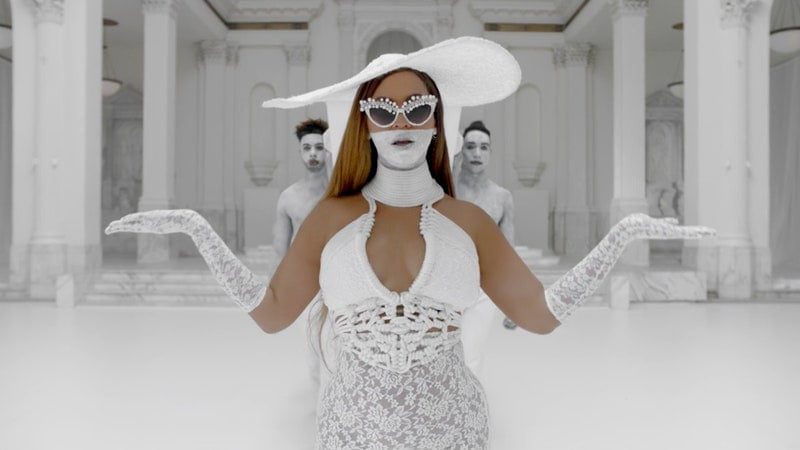 This elaborate ensemble was a collaboration between Deviant La Vie and Alani Taylor. It is presumed that this dress could be intended to evoke mummification in Ancient Egypt, which was a sacred process to preserve the dignity of the dead so that, the spirit of the deceased wouldn't be lost or damaged. In my opinion, it is a wearable piece for a beach event, such as wedding, party or a picnic.
10. The Mermaid Dress Worn by Kelly Roland
The mermaid dress worn by Kelly Roland and the wedding dress worn by Nala at her wedding to her beaux Simba. The puff sleeves adds zest to the dress, it' is appealing and trendy too, and can be a good choice for a wedding proper or as a wedding after party dress.
These are my 10 best picks, please feel free to write in the comment section and tell which fashion ensembles and styles in both the movie and music video are your favorites. Remember 'Less is better'.
SLAY IT GIRLS!
You May Also Like:
· How to dress to hide belly fat 2023
· How Big Is A C Cup Bra? Sizes & Measurements
· WHY IS MY HAIR CURLY AND STRAIGHT AT THE SAME TIME?
· How to Make Natural Black Hair Curly: 5 Simple Steps
· Cosrx Acne Master Pimple Patch Ultimate Review
Sources:
Byrdie. The Fascinating History of Braids You Never Knew About.
https://www.byrdie.com/history-of-braids
Amplify Africa. The Rich History of Braids.
https://www.amplifyafrica.org/post/the-rich-history-of-braids
Paforfashion: Knotless Braids 2023: 18 New Looks:
Ebena. Fulani Braids. https://ebena.net/style/tribal-fulani-braids/6685
Ebena. Ghana Braids. https://ebena.net/style/ghana-braids/914
Ebena. Box Braids. https://ebena.net/style/box-braids/43
Onchek. 6 Popular Braiding Styles and Their True Origin.
https://www.onchek.com/theinsight/6-popular-braiding-styles-their-true-origin/
Ebena. Stitch Braids. https://ebena.net/style/stitch-braids/84
The Trend Spotter. 25 Hottest Tribal Braids to Copy.
https://www.thetrendspotter.net/tribal-braids/
Bukola Braiding. Simple Steps to Hair Braiding.
http://www.bukolabraiding.com/wp-content/uploads/2012/10/Simple-Steps-to-Hair-Braiding.doc.pdf
Essence. How to Wash Braids. https://www.essence.com/hair/braids/how-to-wash-braids/
Outsons. How Long Does Your Hair Have to Be to Braid?
Stylist. How to Refresh Your Braids: Simple Tips to Make Your Braided Style Last Longer.
https://www.stylist.co.uk/beauty/braids-how-to-maintain-keep-in-longer-tight-fresh-braids-twists/330285
Thirsty Roots. 7 Tips for Maintaining Braids or Twists.